Heads of Iran's Branches of Power Convene in Tehran
TEHRAN (Tasnim) – The Iranian president, parliament speaker and judiciary chief met in Tehran on Monday in what President Rouhani said was a get-together to coordinate performance of the three branches of power for the country's progress.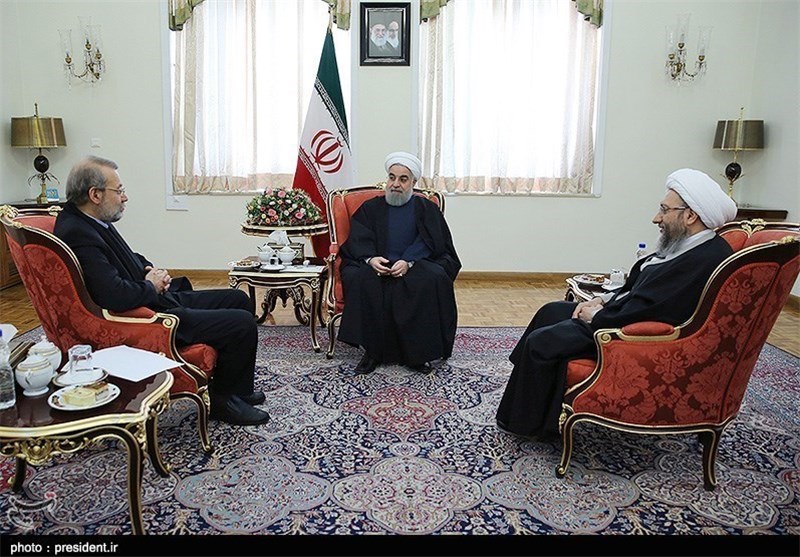 "At this gathering, the heads of branches of power discussed the country's major issues," President Hassan Rouhani told reporters after the meeting with Parliament Speaker Ali Larijani and Judiciary Chief Ayatollah Sadeq Amoli Larijani.
He also noted that talks were held on the country's conditions after implementation of the Joint Comprehensive Plan of Action (JCPOA) and on his recent trips to France and Italy.
The president insisted that the country's development will materialize only in light of "coordination and rapport" among the three branches of power, stressing that all should join hands to tap into the JCPOA for the Iranian nation's benefit.
The lasting nuclear deal between Iran and the Group 5+1 (Russia, China, the US, Britain, France and Germany) came into force on January 16 and terminated all nuclear-related sanctions against Tehran.
The president further called for massive turnout in the nationwide rallies planned on February 11 to mark the anniversary of victory of the Islamic Revolution and in the February 26 elections.
The Assembly of Experts and the parliamentary elections will be held simultaneously on February 26.
There will be 290 seats in the Iranian parliament and 88 in the Assembly of Experts up for grabs.