Trump Wins in South Carolina as Clinton Takes Nevada
TEHRAN (Tasnim) – Hillary Clinton won the Democratic Party caucuses in Nevada, beating Bernie Sanders, the Vermont senator, while Donald Trump prevailed in the crowded Republican nominating primary in South Carolina.
February, 21, 2016 - 12:06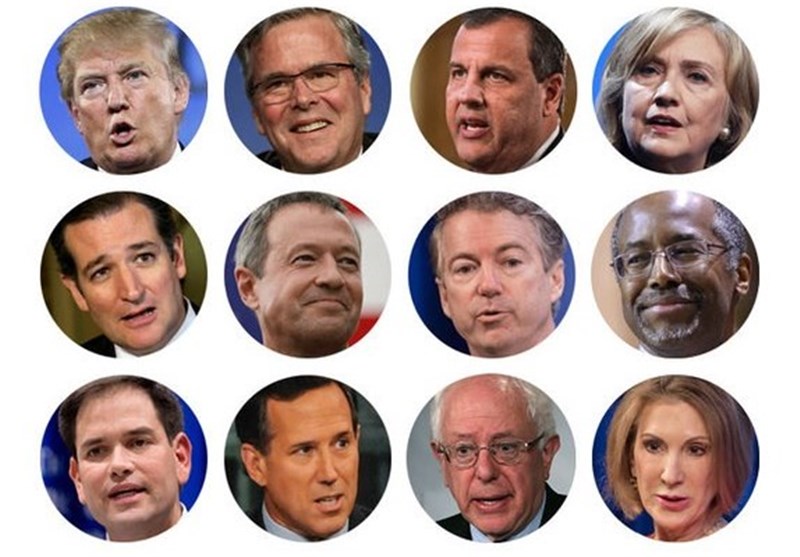 Saturday's contest was the first test for the White House hopefuls Clinton and Sanders in a more racially diverse state than the opening contests in Iowa and New Hampshire, which the candidates split.
Voters in South Carolina backed Trump in the "First in the South" contest to pick the Republican nominee for the November 8 US presidential election.
While Clinton's campaign once saw Nevada as an opportunity to start pulling away from Sanders, her team had anticipated a close contest with Sanders.
The victories put Clinton and Trump in strong positions as the 2016 presidential election barreled toward the March 1 Super Tuesday contests, a delegate-rich voting bonanza.
"There's nothing easy about running for president," Trump said at his victory rally. "It's tough, it's nasty, it's mean, it's vicious. It's beautiful - when you win it's beautiful."
Clinton's roughly five-point win eased the rising anxieties of her backers, who feared a growing challenge from Sanders.
At a raucous victory rally in Las Vegas, she lavished praise on her supporters and declared, "This one is for you."
Trump's strong showing in South Carolina marked his second straight victory in the Republican primaries and strengthened his unexpected claim on the party nomination. No Republican in recent times has won New Hampshire and South Carolina and then failed to win the nomination.
Ted Cruz and Marco Rubio, a pair of freshman senators, were locked in a race for second place in South Carolina. Bush and other candidates lagged far behind.
Al Jazeera's Alan Fisher, reporting from Columbia, South Carolina, said Trump's win came despite another controversial week where he called Bush a liar and had his Christianity questioned by Pope Francis.
"Trump will move on with momentum from here," Fisher said.
For Democrats, the contest between Clinton and Sanders has grown closer than almost anyone expected.
Sanders, an avowed democratic socialist, has energized voters, particularly young people, with his impassioned calls for breaking up Wall Street banks and providing free tuition at public colleges and universities.
Clinton hoped to offset Sanders' youth support by winning big majorities among blacks and Hispanics.
She eyed Nevada, where one-fourth of the population is Hispanic, as the first in a series of contests that would highlight that strength.
A victory for Sanders would have given his campaign a boost heading into the Democratic contests in 11 states on Super Tuesday.
Democrats gathered at 200 caucus sites, including six at Las Vegas Strip casinos so housekeepers, blackjack dealers and others with weekend schedules could attend.
Democrats and Republicans will swap locations in the coming days. Republicans hold their caucuses in Nevada on Tuesday, while Democrats clash in South Carolina on February 27.