President: Iran Sees No Obstacle to Promotion of Ties with Azerbaijan
TEHRAN (Tasnim) – Iranian President Hassan Rouhani underlined that there is no obstacle in the way to further deepen bilateral relations with neighboring Azerbaijan in all political and economic spheres.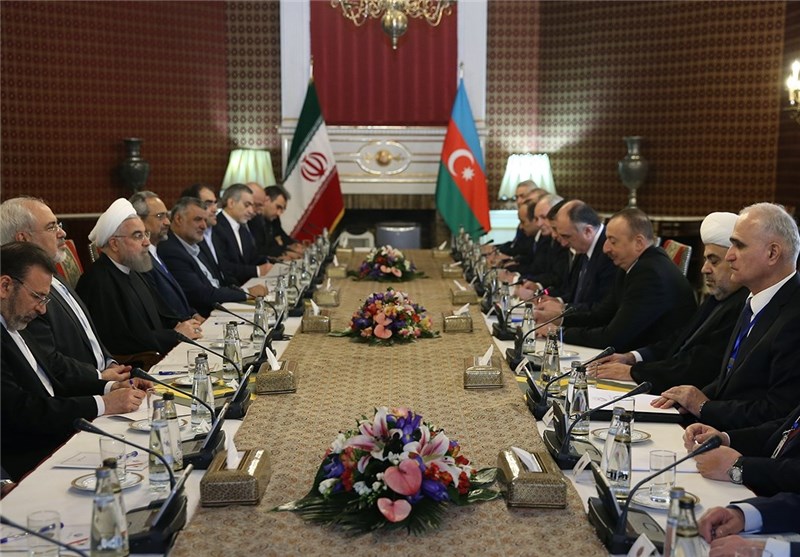 Speaking at a meeting of high-ranking delegations from Iran and Azerbaijan attended by President Ilham Aliyev in Tehran on Tuesday, President Rouhani described the bilateral relations between Tehran and Baku as strategic and said the ties are now closer than ever.
He further pointed to the international atmosphere created after Tehran's nuclear deal with six world powers and the removal of anti-Iran sanctions, stressing the necessity to utilize the atmosphere for closer cooperation between the two neighbors.
The culture and civilization of the two countries have common roots, he said, adding that the Islamic Republic considers no restriction on the promotion of its cooperation with Azerbaijan in all fields.
Aliyev, for his part, hailed the growing relations between the two nations, saying that over the past years, Iranian and Azeri officials have always explored avenues for the promotion of ties.
This is Aliyev's second visit to Iran during President Rouhani's tenure. The first was in spring 2014.
Iran and Azerbaijan have accelerated efforts in recent years to forge closer partnership in various fields, from fighting against terrorism to the exchange of electricity or gas deals.
Meanwhile, a lasting nuclear deal between Iran and six world powers that terminated sanctions on Iran has also paved the way for Tehran-Baku interaction to thrive.
Known as the Joint Comprehensive Plan of Action (JCPOA), the nuclear accord came into force on January 16.