African American Activists Disrupt Trump Rally
TEHRAN (Tasnim) – A Donald Trump rally in Virginia was repeatedly disrupted on Monday by protesters, including some from the Black Lives Matter movement, in a stark display of the divisions the Republican front-runner's presidential campaign has long been accused of sowing.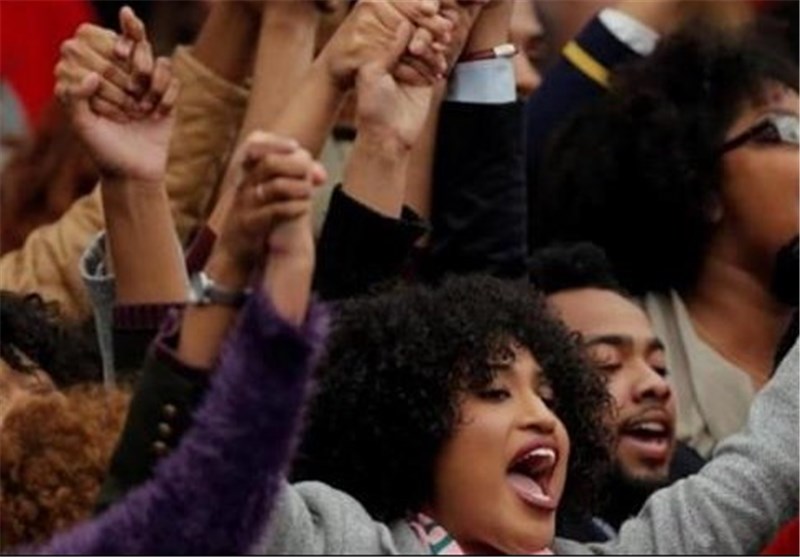 A Time magazine photographer trying to document the exit of dozens of black protesters from the rally in southwestern Radford, Virginia, was grabbed by the neck and shoved to the ground by a US Secret Service agent, Reuters reported.
Hecklers disrupted the rally on a day when the New York billionaire fended off criticism that he had not clearly condemned white supremacist support.
Trump taunted the protesters, shouting "Are you from Mexico?" at one of them.
Supporters in the audience confronted the hecklers in angry, face-to-face exchanges.
As black protesters were escorted from the rally, the crowd around them began to chant, "All lives matter. "
Trump waited for the scene to quiet down before saying, "Folks, you're going to hear it once: All lives matter." The crowd roared with applause.
Black Lives Matter is a civil rights movement that sprang from police shootings of black Americans in recent years.
The Trump rally took place on the eve of Super Tuesday, the biggest voting day in the race to pick the 2016 presidential nominees for the November election. A number of Southern states including Virginia are holding contests on Tuesday, and opinion polls show Trump is likely to consolidate his status as favorite to win the Republican nomination.
On Monday, the protesters disrupted Trump's remarks several times for long stretches, prompting him to shout to security guards several times, "Get them out please, get them out."
Trump appeared to relish the discord, saying after the turmoil in the crowd that his rallies were more exciting than those of the other candidates: "But it is fun, and exciting."
Time photographer Chris Morris was on the fringe of an enclosed media section when he was seized by an agent from the Secret Service, which has the job of protecting the U.S. president and some White House candidates.
"I stepped 18 inches out of the (press) pen and then he grabbed me by the neck and started choking me and then he slammed me to the ground," Morris said.
The Trump campaign said it was not aware of the details of the incident and directed inquires to local law enforcement.
Secret Service spokesman Robert Hoback said the agency was aware of the incident involving one of its employees but it still working to "determine the exact circumstances that led up to this incident.