Super Tuesday: Clinton, Trump Win Big; Cruz Takes Texas
TEHRAN (Tasnim) – US presidential candidates Hillary Clinton and Donald Trump tightened their grips on the Democratic and Republican US presidential nominations while Ted Cruz claimed Super Tuesday's biggest prize -- Texas -- and Marco Rubio landed his first win of the 2016 campaign.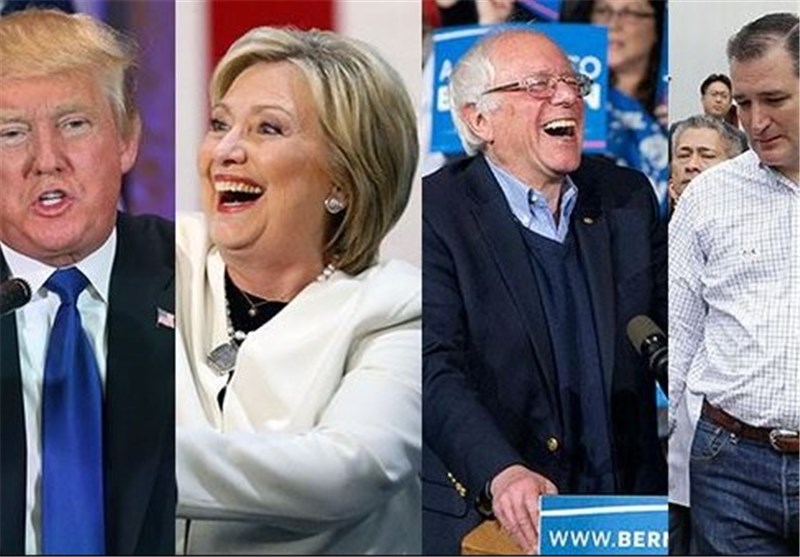 Voters went to the polls in a dozen states and so far have handed seven wins each to Clinton and Trump.
Clinton took Alabama, Arkansas, Georgia, Massachusetts, Tennessee, Texas and Virginia, while Trump won Alabama, Arkansas, Georgia, Massachusetts, Tennessee, Vermont and Virginia.
Bernie Sanders, Clinton's insurgent Democratic rival, captured Colorado, Oklahoma, Minnesota and his home state of Vermont.
Cruz's Texas and Oklahoma victories, meanwhile, were crucial wins that gave him a rationale to carry on in the race. He pointed to those triumphs, combined with his victory in the Iowa caucuses, as proof that only he can actually beat Trump.
"After tonight, we have seen that our campaign is the only campaign that has beaten, that can beat and that will beat Donald Trump," Cruz told supporters.
But that argument was complicated when Rubio notched his first win of the election season in Minnesota. The Florida senator insisted in an interview with CNN that he will move forward and doesn't believe Trump will win the nomination.
"This is the fight for the heart and soul of the Republican Party," Rubio told CNN's Jake Tapper. "I will go through all 50 states before we stop fighting to save the Republican Party from someone like that."
Trump predicted that he would win the Florida primary in two weeks against Rubio, whom he called the state's "little senator" and a "lightweight."
Sanders, who is keen to challenge the growing narrative that the former secretary of state is now on track to win the nomination, hopes to halt the Clinton tide with his four victories, CNN reported.
"This campaign is not just about electing a president," Sanders said at a rally Tuesday night in Vermont. "It is about transforming America."
A total of 595 Republican delegates of the 1,237 needed to clinch the GOP nomination were up for grabs in 11 states. Sanders and Clinton faced off in 11 states for 865 of the 2,383 delegates needed to win the Democratic race.
Super Tuesday came at a pivotal moment in the Republican race. It has finally dawned on rival campaigns and alarmed party establishment figures that Trump -- after three thumping wins in New Hampshire, South Carolina and Nevada -- will win the nomination unless there is a dramatic reversal of fortunes.