Sanders Upsets Clinton in Michigan; Trump Notches 2 Big Wins
TEHRAN (Tasnim) – Bernie Sanders pulled off a shocking upset Tuesday night, beating Hillary Clinton in the Michigan Democratic primary — where some polls going into the race had him trailing by double-digits — and eclipsing Clinton's win earlier in the night in Mississippi.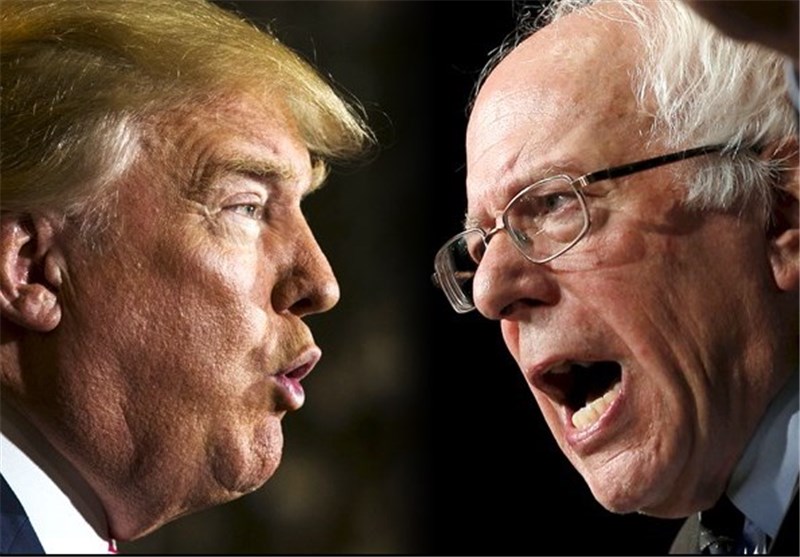 Republican front-runner Donald Trump, meanwhile, regained any momentum lost last weekend against Ted Cruz, sweeping to convincing victories in Michigan and Mississippi, sending a message to the Republican establishment to jump on board — or get out of the way.
Fox News projects Cruz will win the Idaho GOP primary, with Trump placing second there.
But Trump's earlier victories were more valuable in terms of delegates. And the results Tuesday also may help determine the fate of Marco Rubio, who appeared once again to finish the night failing to gain any delegates.
Cruz and John Kasich, meanwhile, were locked in a dogfight for second place in Michigan, the neighboring state to Ohio, where Kasich is counting on a win next week to salvage his campaign.
On the Democratic side, Clinton easily won Mississippi's primary earlier Tuesday, thanks in part to her overwhelming support from black voters, and likely will pick up more delegates in Tuesday's contests than Sanders.
But the Vermont senator's surprising Michigan win could give him a bounce as he and the rest of the candidates charge into the vital March 15 primaries in Florida, Ohio and three other big states. All 15 pre-election polls in Michigan this year showed Clinton leading Sanders by double-digits.
Michigan is the ninth and largest state that Sanders has won so far in the Democratic presidential campaign.
Sanders chief strategist John Weaver blasted out a memo touting the Michigan performance, saying the state "provides a springboard into the races on March 15, the day the race will officially reset."
For his part, Trump is looking to March 15 to sideline the rest of the GOP field for good – something he tried to start doing Tuesday night. At a press conference at his golf club in Juniper, Fla., he said of his remaining rivals, "They're pretty much all gone."
Michigan was the biggest prize on the map Tuesday, with four states in total voting, Fox News reported.
Aside from Michigan, Mississippi, and Idaho, Republican voters were casting ballots as well in Hawaii.
On the Republican side in Mississippi, Trump's projected victory leaves Cruz to finish in second place. Kasich and Rubio are locked in a battle for third.
Trump celebrated his wins at a lengthy press conference Tuesday night, teasing the "special interests" and others that ran ads against him.
"It shows you how brilliant the public is, because they knew they were lies," Trump said.
He started his victory talk with a subdued and conciliatory tone, appearing to take the first steps to patch up any differences with the party brass. He noted House Speaker Paul Ryan recently called him.
"He could not have been nicer," Trump said.
But he soon slipped into his standard fare, making cracks about his remaining rivals. He took a shot at Cruz, noting the Texas senator positions himself as the only candidate who can beat him, "but he never beats me."
Both Trump and Clinton had a mixed performance this past weekend where they effectively split the delegate field with their top rivals.
The stakes on Tuesday arguably were higher for Trump, whose delegate lead over Cruz shrunk on Saturday as they each won two contests. Cruz has been pushing to consolidate conservative support on the heels of those races, arguing Trump is not the candidate he claims to be.
"He is pretending to be an outsider," Cruz told Fox News.
But Trump used his wins Tuesday to downplay the chances for his remaining rivals, as he and the rest of the field look ahead to next week's vital winner-take-all contests in Ohio and Florida.