Iranian Diplomat, UN Envoy Discuss Syria Peace Efforts
TEHRAN (Tasnim) – Iranian Deputy Foreign Minister for Arab and African Affairs Hossein Amir Abdollahian and UN Special Envoy for Syria Staffan de Mistura conferred on the ongoing political efforts to find a solution to the Syrian crisis.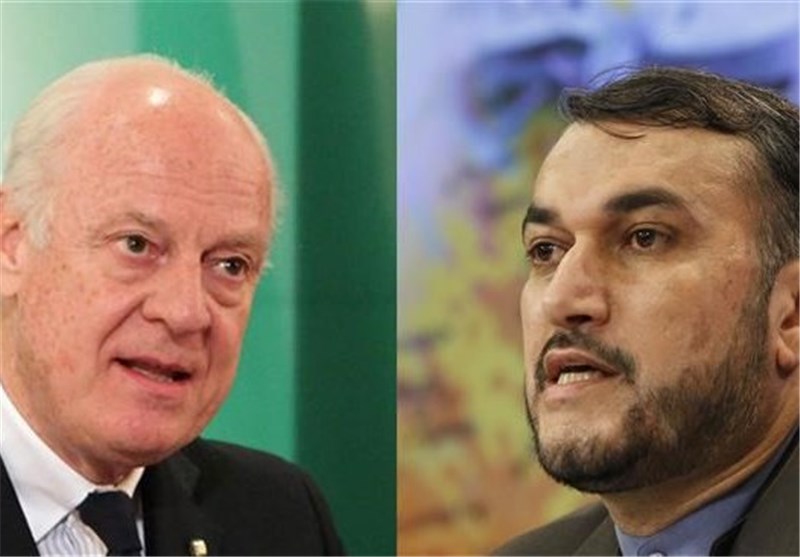 In a telephone conversation on Wednesday, the two sides exchanged views on the latest developments regarding negotiations between Syrian government and opposition groups in Geneva, Switzerland.
De Mistura, for his part, briefed Amir Abdollahian on his effort on new round of Geneva talks, and highlighted the UN's seriousness to pursue the issue.
Pointing to Iran's "constructive and effective role" in finding a political solution to the Syrian crisis, he expressed the hope that the Geneva talks would result in the resolution of the crisis in the Arab country.
Also at the meeting, the Iranian diplomat urged "a realistic" approach in pursuing the political solution and the campaign against terrorism.
He said "territorial integrity, independence and national unity" of Syria should be respected in any solution to the Syrian crisis.
De Mistura had on Wednesday said that Syria's cessation of hostilities is open-ended in the view of the United Nations and the major powers.
De Mistura plans to launch substantive peace talks on Monday, and said they will focus on the core issues of governance, elections within 18 months and a new constitution.
The round of talks would not run beyond March 24, when there would be a break before resuming.