Israeli Regime Main Source of Violence, Extremism: Iran's President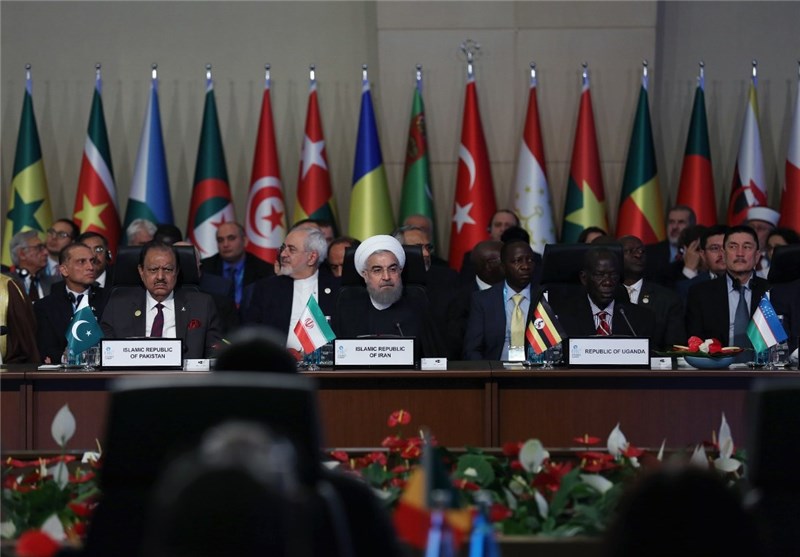 TEHRAN (Tasnim) – Iranian President Hassan Rouhani slammed the Zionist regime of Israel for its continued aggression against the oppressed people of Palestine, describing Tel Aviv as the root source of violence and extremism in the Middle East.
Addressing the 13th summit of the Organization of Islamic Cooperation (OIC) in the Turkish city of Istanbul on Thursday, Rouhani expressed deep sorrow over the negligence of the international community on the issue of Palestine and Israeli crimes.
"We should always be vigilant against the danger of the Zionist regime as the main source of violence and extremism," he said in his address, adding that the continued massacre of innocent Palestinian people, mostly women and children, in the occupied Palestinian territories and the siege of the Gaza Strip show the violent nature of the Zionist regime of Israel that continues its brutalities with the international community, western powers in particular, turning a blind eye to the atrocities.
Elsewhere in his remarks, Rouhani underlined unity in the Muslim world and deplored "any divisive move" at the OIC as unacceptable, saying, "No message which would fuel division in the Islamic Ummah (community) should come out of the OIC conference."
"Since any divisive move does not enjoy consensus among (the member states) of the organization (the OIC) and the Islamic Ummah and is in conflict with the raison d'être of the organization, it would be invalid," he stated.
Rouhani made the remarks after reports on Saudi Arabia's attempts to include statements against Iran and Lebanon's Hezbollah Resistance Movement in the draft declaration of the OIC summit.
The OIC draft was prepared during an expert-level meeting of the organization in February in the Saudi port city of Jaddah. Iranian officials could not attend in the meeting as they were denied visas by Riyadh.
On Wednesday, Iranian Foreign Minister Mohammad Javad Zarif also denounced Saudi Arabia's move to include statements against Tehran and Hezbollah as "destructive."
He warned that attempts made by the Saudis to use the OIC mechanism to achieve their political goals resemble efforts by the former regime of Iraq's Saddam Hussein against Iran during the organization's meeting at the time of Iraq's imposed war against Iran in the 1980s.