US Insistence on Sanctions Path Unconstructive: Iran's Shamkhani
TEHRAN (Tasnim) – Secretary of Iran's Supreme National Security Council (SNSC) Ali Shamkhani criticized Washington's approach to the July 2015 nuclear agreement between Iran and world powers and the United States' failure to honor its commitments under the deal.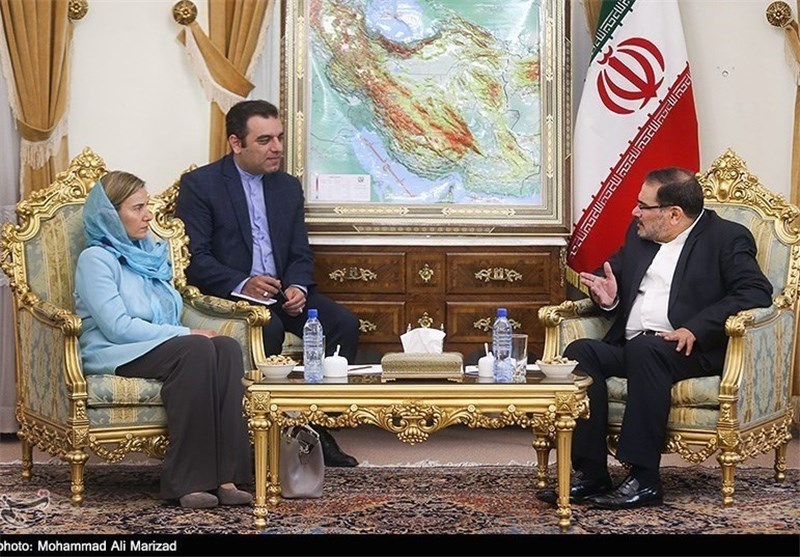 Speaking in a meeting with the European Union's Foreign Policy Chief Federica Mogherini in Tehran, Shamkhani described the United States' approach of insisting on the path of sanctions and disrupting the implementation of the nuclear deal, known as the Joint Comprehensive Plan of Action (JCPOA), as "undesirable and unconstructive".
"Should this trend continue and no effective measure is taken against it by the European Union, it will have negative consequences on the continuation of cooperation and fulfilment of mutual undertakings," the Iranian official underlined.
While the JCPOA, the nuclear agreement between Iran and the Group 5+1 (Russia, China, the US, Britain, France and Germany) came into force in January, Iranian officials have complained about the US failure to fully implement the accord.
Shamkhani further referred to the "good collaborations" between Iran and the EU in different fields and said the two sides can further expand bilateral ties with goodwill and by tapping into the existing potentials.
He, however, deplored the EU for imposing sanctions on some Iranian individuals under "baseless accusations" regarding human rights, stressing that such moves are not consistent with the new atmosphere of Tehran-Brussels relations and could lead to growing mistrust between the two sides.
For her part, Mogherini, who is on an official one-day visit to Tehran, commended Iran for its efforts on the path of implementing the JCPOA, stressing that all countries should work to strengthen the nuclear deal.
She also highlighted the Islamic Republic's key role in regional security and stability and said Iran-EU cooperation can help facilitate diplomatic approaches for settling crises in the region.