Ecuador in Emergency after 77 Killed in Earthquake
TEHRAN (Tasnim) – Ecuador was in a state of emergency Sunday after a powerful earthquake flattened buildings and ravaged towns along the nation's northwestern coast Saturday night.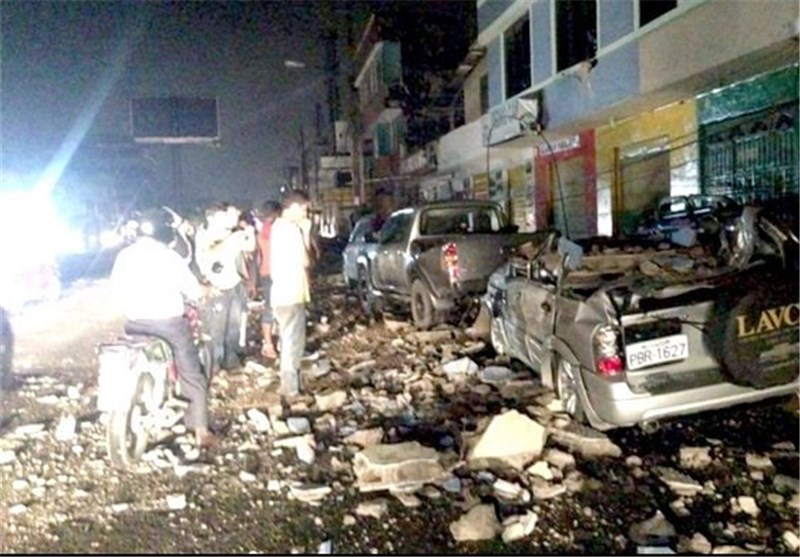 At least 77 people were killed and 588 were wounded, Vice President Jorge Glas said, after the magnitude-7.8 earthquake struck just before 7 p.m. local time (8 p.m. ET).
President Rafael Correa, who declared a national emergency, said the tremblor was the strongest quake to hit Ecuador since 1979. "Our infinite love to the families of the dead," Correa said on Twitter, while cutting short a trip to Italy to return home, NBC News reported.
States of emergency were declared for the provinces of Esmeraldas, Los Rios, Manabi, Santa Elena, Guayas and Santo Domingo. The quake was strongly felt in country's capital of Quito, around 100 miles away.
Glas said 10,000 military troops and 3,500 police have been dispatched to the affected areas. Meanwhile, the Home Ministry said five helicopters and over 80 buses were ferrying 4,000 police to the quake zone.
Authorities said landslides were making it difficult for emergency workers to reach the towns hardest hit by the earthquake.
"I was in my house watching a movie and everything started to shake. I ran out into the street and now I don't know what's going to happen," Lorena Cazares, 36, a telecommunications worker in Quito said.
The country's Geophysics Institute in a bulletin described "considerable damage" in the area of the epicenter and in Guayaquil.
The quake's epicenter was 16 miles south-southeast of the coastal town of Muisne, located on the country's northwestern coast, the US Geological Survey said. The quake was recorded at a depth of about 12 miles.
One person was killed when an overpass collapsed and crushed a car in the country's largest city, Guayaquil, located 200 miles to the south of Muisne. Another occupant of the car survived and was taken to a hospital, authorities said.
Video posted online showed damage to a shopping mall in Portoviejo and people crowded in the street outside as alarms rang. A hotel in Manta partially collapsed and was left barely standing, and buildings were shaken to the ground in Guayaquil.