Iranian Speaker Laments Refugee Crisis in Europe
TEHRAN (Tasnim) – Iranian Parliament Speaker Ali Larijani expressed deep sorrow over the ongoing conflicts in certain Middle Eastern nations, including Syria, Iraq and Yemen, saying that many people from the countries have been forced to emigrate to Europe.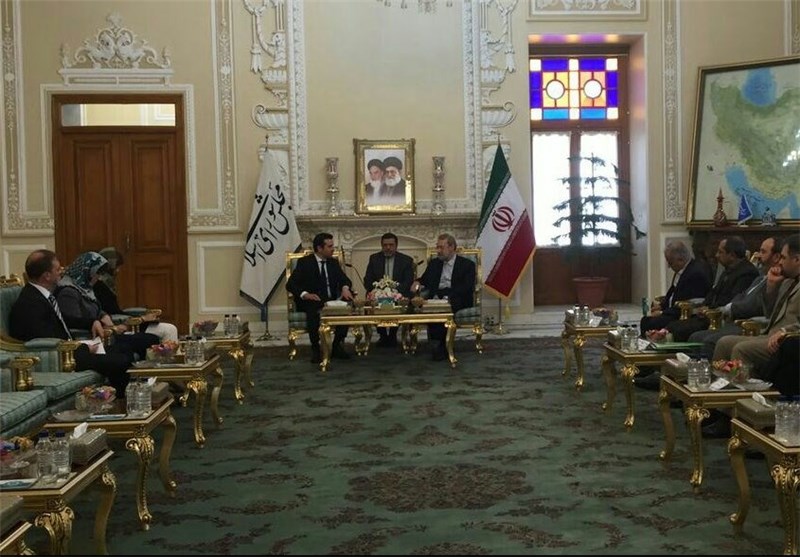 Speaking at a meeting with Macedonian Foreign Minister Nikola Poposki in Tehran on Sunday evening, Larijani pointed to the growing migrant crisis in the European Union and the influx of refugees from war-stricken countries to the bloc, expressing concern over their appalling conditions in the EU countries.
"Conflicts in Afghanistan, Syria, Iraq and Yemen have caused the massive influx of immigrants to European countries, and unfortunately many of them are living in poor conditions," Larijani noted.
According to media reports, after weeks stranded at a closed border in northern Greece, migrants and refugees are seeking out new, irregular routes to get into Macedonia, clambering through forests and over hills under the cover of darkness.
The Macedonian top diplomat, for his part, emphasized that the migrant crisis has paved the way for terrorist groups to cross into Europe.
He further described the threat of terrorism to Europe as serious, saying that the EU states noticed the seriousness of the danger after recent terrorist attacks in Paris and Brussels.
The Macedonian minister was referring to the November 13 attacks in Paris that killed 130 and last month's suicide bombings in Brussels, which left 32 dead.
Syria and Iraq have been gripped by foreign-backed insurgency with various terrorist groups, including Daesh (also known as ISIS or ISIL), controlling parts of the countries.
According to a new report by the Syrian Center for Policy Research, the conflict in Syria has claimed the lives of over 470,000 people, injured 1.9 million others, and displaced nearly half of the country's pre-war population of about 23 million within or beyond its borders.