President Rouhani Urges Closer Iran-Turkmenistan Ties
TEHRAN (Tasnim) – Iranian President Hassan Rouhani underlined the great importance the Islamic Republic attaches to its relations with neighboring Turkmenistan, calling for further efforts to boost ties at various bilateral, regional and international levels.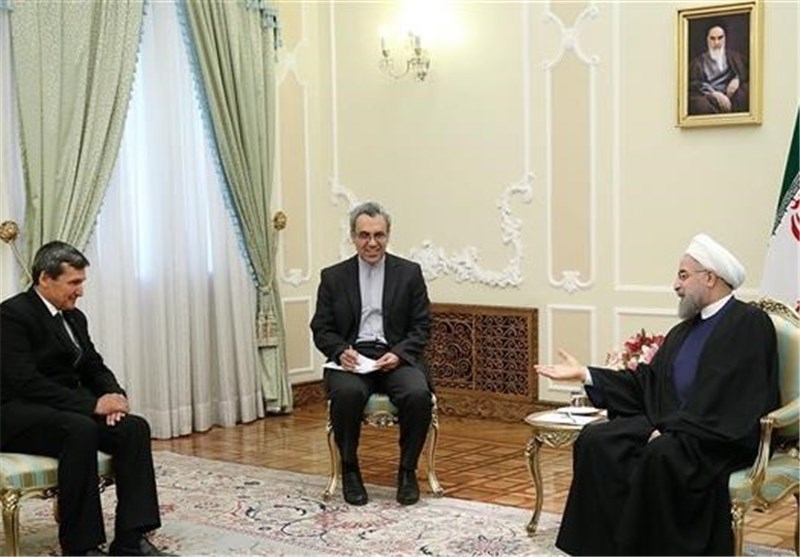 "Iran and Turkmenistan have had successful collaborations, which should be developed in line with the interests of the two nations," Rouhani said in a Saturday meeting with Turkmen Foreign Minister Rasit Meredow in Tehran.
The Islamic Republic of Iran always sides with Turkmenistan's nation and government and "we should use optimum use of all opportunities to expand the relations," he added.
The president further emphasized the necessity of boosting multilateral cooperation among regional countries, including Iran and Turkmenistan, saying such cooperation would increase economic interaction and promote stability, unity and solidarity in the region.
Meredow, who doubles as the Deputy Chairman of Turkmenistan's Cabinet of Ministers, praised Iran's support for his country in regional and international circles and called for efforts to boost cooperation based on good neighborliness and common interests.
Back in March 2015, Iran and Turkmenistan signed 17 cooperation documents in economic, cultural, political, legal, scientific, and technological fields during a visit to Ashgabat by Iranian President Hassan Rouhani.
The Iranian chief executive announced at the time that Iran and Turkmenistan have decided to increase the total value of their economic exchanges from the then $3.7 billion to $60 billion in a ten-year period.