Syrian Army Winning Back Aleppo Southern Suburbs
TEHRAN (Tasnim) – Syria's military forces, backed by voluntary fighters, recaptured more residential neighborhoods near the northwestern city of Aleppo from terrorist groups over the past 24 hours, and tightened the noose on terrorists at the strategic village of Khan Touman, south of Aleppo.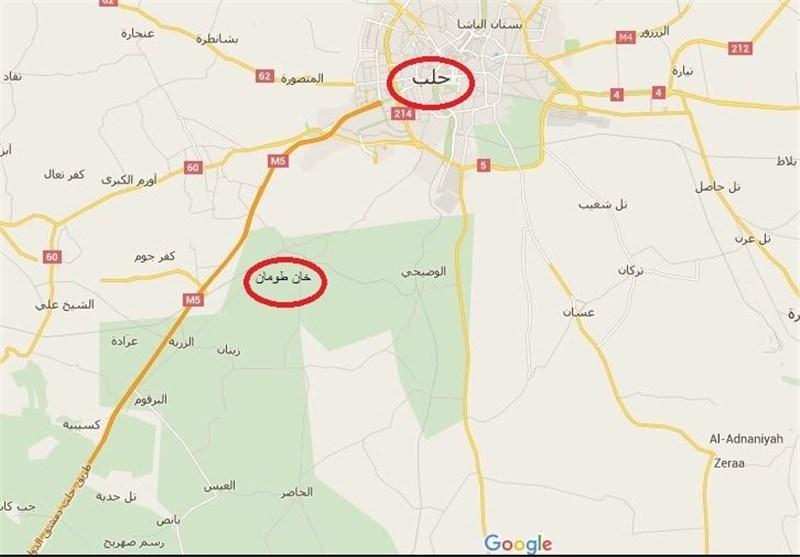 According to Tasnim dispatches, the Syrian forces are advancing toward Aleppo after liberating more neighborhoods south of the city.
Meanwhile, Syrian sources have reported heavy airstrikes by the Army on terrorist strongholds in Khan Touman, which the al-Nusra Front militants captured on Friday.
The strategic village lies only 7 kilometers south of Aleppo.
According to reports, at least 98 terrorists have been killed in the Syrian military attacks on Aleppo's southern areas.
Backed by the artillery and the Air Force fighter jets, Syrian troops are pushing back terrorists in their advance on Khan Touman.
Terrorists led by the al-Nusra Front took control of Khan Touman on Friday, shortly before a 48-hour truce in the city was due to come to an end.
Sources said terrorist groups involved in the attack included Ahrar al-Sham, Ajnad al-Sham, and other factions under the command of the so-called Army of Conquest.
A British-based group, the so-called Syrian Observatory for Human Rights, said more than 73 people had died in clashes in Khan Touman and surrounding villages, which included at least one al-Nusra suicide bomber.
Syria has been gripped by civil war since March 2011 with various terrorist groups, including Daesh (also known as ISIS or ISIL), currently controlling parts of it.
According to a report by the Syrian Center for Policy Research, the conflict has claimed the lives of over 470,000 people, injured 1.9 million others, and displaced nearly half of the country's pre-war population of about 23 million within or beyond its borders.