Jordan Burroughs Beats Iran's Yarahmadi at Beat the Streets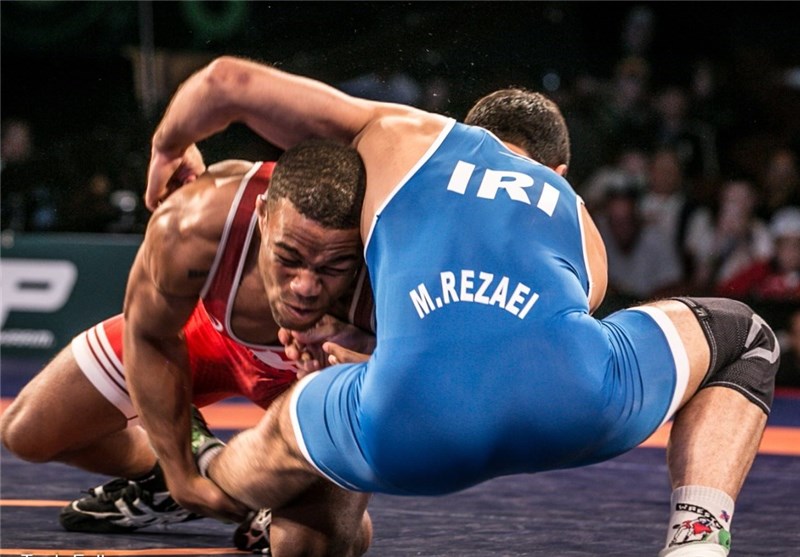 TEHRAN (Tasnim) – Olympic gold medal winner Jordan Burroughs defeated Iran's Peyman Yarahmadi at Beat the Streets Dual in Times Square on Thursday.
Burroughs beat Yarahmadi 11-2 in the Men's freestyle 74 kg weight category.
The United States won three of its four Junior-level matches against Iran, with wins from Daton Fix at 55 kg, Mitchell McKee at 60 kg and Mark Hall at 74 kg.
Iran's only win of the night came in the Junior match at 84 kg, when 2015 Junior World champion Mojtaba Goleij of Iran defeated 2015 U.S. Junior World Team member Zahid Valencia, 10-1.
It was the first time in which age-group international events were included in a Beat the Streets event.
Box Scores
Junior men's freestyle 55 kg– Daton Fix (USA) tech. fall Kheyrollah Ghahramani (Iran), 14-3
Junior men's freestyle 60 kG – Mitchell McKee (USA) dec. PeYman Biabani (Iran), 8-8
Junior men's freestyle 74 kg – Mark Hall (USA) dec. Ahmad Bazrighaleh (Iran), 8-5
Junior men's freestyle 84 kg – Mojtaba Goleij (Iran) dec. Zahid Valencia (USA), 10-1
Men's freestyle 86 kg – J'Den Cox (USA) dec. Meysam Mostafa Joukar (Iran), 10-5
Men's freestyle 74 kg – Jordan Burroughs (USA) dec. Peyman Yarahmadi (Iran), 11-2