Kazakh Police Break Up Anti-Government Protests
TEHRAN (Tasnim) – Kazakh police broke up anti-government protests across the country Saturday, detaining dozens of protesters and cordoning off the main squares of major cities.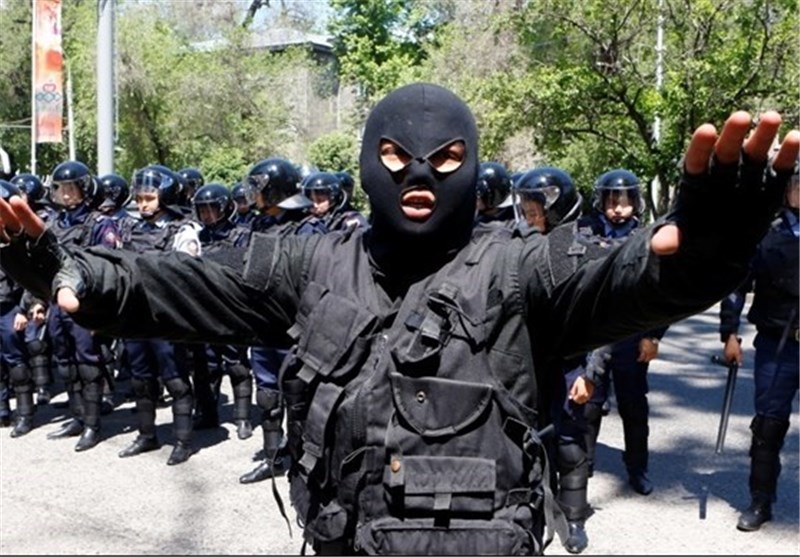 Opponents of Kazakh president Nursultan Nazarbayev, who has been in power since 1989, had called for rallies in all major cities, extending a series of demonstrations that started last month in response to plans to privatize large tracts of farmland.
The protests, which have become an outlet for expressing general discontent with the government, are the Central Asian nation's biggest for more than a decade and continued Saturday despite preemptive detentions of many activists and warnings from the authorities.
At least 100 protesters gathered at one police checkpoint that blocked access to Almaty's main square. Similar-sized groups tried to enter the square at other points, some sang the national anthem.
Reuters witnesses saw police, some in full riot gear, chase protesters down the street, detaining them one-by-one and putting them into buses.
Police also briefly detained two Reuters reporters but released them after driving them a short distance in a police van.
The unrest follows a sharp economic slowdown and the depreciation of the national tenge currency by about 45 percent last year as the price of oil, Kazakhstan's main export plunged, according to Reuters.
Kazakh authorities had warned that the planned rallies were "illegal" and that police would react.
Earlier this week, police and courts detained dozens of activists in several cities who had planned to take part in Saturday's protests. On Saturday, the Interior Ministry declined to say how many people police had detained across the country.
Police also said Friday they had found caches of Molotov cocktails, gasoline and iron rods near the protest site in Almaty - the kinds of improvised weapons used in protests in fellow ex-Soviet nation Ukraine which toppled its leadership.