Syrian Troops Advance against Terrorists in Several Areas
TEHRAN (Tasnim) – Syrian forces made fresh gains against terrorists in a suburb of Damascus and the Western province of Hama, killing a number of militants in their push to win back militant-held areas.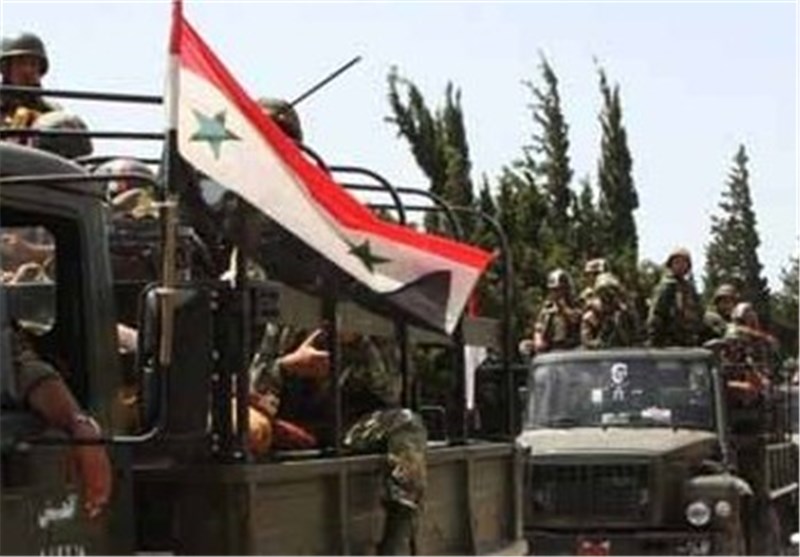 On Friday, the Syrian army troops conducted an operation in the Eastern Ghouta region of Damascus and managed to retake 13 villages from the al-Qaeda-linked al-Nusra Front elements.
A military source also told Syria's SANA news agency on Saturday that the army units foiled an attack by Nusra Front and Ahrar al-Sham terrorists on military posts in the northern countryside of Hama, killing 25 of the extremists, according to Press TV.
Meanwhile, the Syrian soldiers broke the siege imposed on al-Zara power plant in Hama and forced terrorists to withdraw to the town of Harbanafseh in the southern countryside of the province.
The Syrian forces further wrested control over all the important positions to the north and east of Harbanafseh, leaving over 100 terrorists dead while destroying 10 of their machine gun-equipped vehicles.
Elsewhere in the central Homs Province, the Syrian Air Force destroyed positions held by Daesh terrorists in al-Shaer field and Um al-Tababeer area.
The developments mark the latest in a string of victories over Takfiris wreaking havoc in the war-torn Middle Eastern country.
The Syrian army has vowed to press ahead with its counter-terror military operations and drive terrorists out of their major strongholds.
Syria has been gripped by foreign-backed militancy since March 2011. Damascus says Saudi Arabia, Turkey and Qatar are the main supporters of the militants fighting the government forces.
United Nations Special Envoy for Syria Staffan de Mistura estimates that over 400,000 people have been killed in the Syrian crisis.