Ayatollah Khamenei Urges Global Promotion of Quran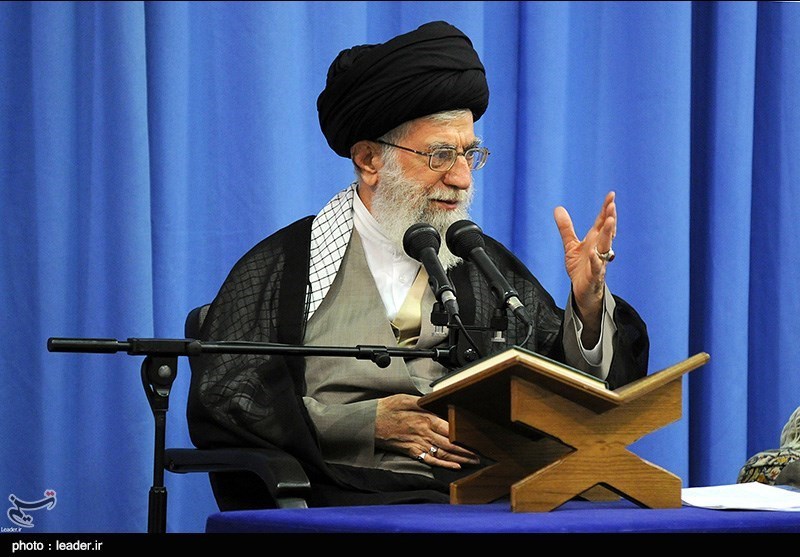 TEHRAN (Tasnim) – Leader of the Islamic Revolution Ayatollah Seyed Ali Khamenei called for efforts to propagate the content of Muslims' holy book, Quran, in order to fill the "spiritual vacuum" that has resulted in rising crimes in the West.
"If such concepts (in Quran) are conveyed, Quran will be the main influential (source) in the world, and (global) powers, their weapons and the Zionist regime will not be able to do a damn thing," Ayatollah Khamenei said in an annual Quranic meeting, held in Tehran on Tuesday, on the first day of the holy month of Ramadan.
The Leader also attributed a rise in crime in the West to spiritual and moral vacuum, and highlighted the humanity's need for the meanings of Quran.
Imam Khamenei then stressed the need for learning how to convey the messages of Quran to the human beings in the world.
As regards the outcomes of familiarity with Quran, the Leader pointed to moral calmness that will in turn pave the way for one's stronger faith in Almighty God.
Every year, Quran reciters and memorizers hold meetings with Ayatollah Khamenei during the holy month of Ramadan.
Ramadan, the ninth month of the Islamic lunar calendar, marks the most special of all occasions. It is a celebration of the descent of the Word of God, the Quran, from Heaven to the earth.
Fasting during Ramadan is one of the pillars of Islam. Abstaining from food and drink, and from other bodily pleasures, is a crucial element of the observation. To partake in the blessings of Ramadan, able-bodied women and men, also girls and boys who have reached the age of religious observance, are required to fast for the duration of this month.
At the end of each fasting day, Muslims break their day-long fast with an "iftar" meal.
Ramadan is more than abstinence from food and drink during the hours of daylight. It is a time for contemplation, devotion and remembrance of God, especially through the reading or recitation of the Quran.
Tending to the welfare of the less fortunate members of the community, giving to the poor -especially at the end of the month- is also important.
Intensive self-reflection and increased God-consciousness during the month of Ramadan is meant to subdue and suppress familiar misdeeds, such as backbiting, holding grudges and telling lies.