Ayatollah Khamenei: Removing Sheikh Qassim Unleashes Bahraini Youth's Ire at Regime
TEHRAN (Tasnim) – Leader of the Islamic Revolution Ayatollah Seyed Ali Khamenei lashed out at Bahraini rulers for their foolish decision to strip Sheikh Isa Qassim of his citizenship, saying any move against the cleric will have Bahraini youth opt for any action to vent their anger on the regime.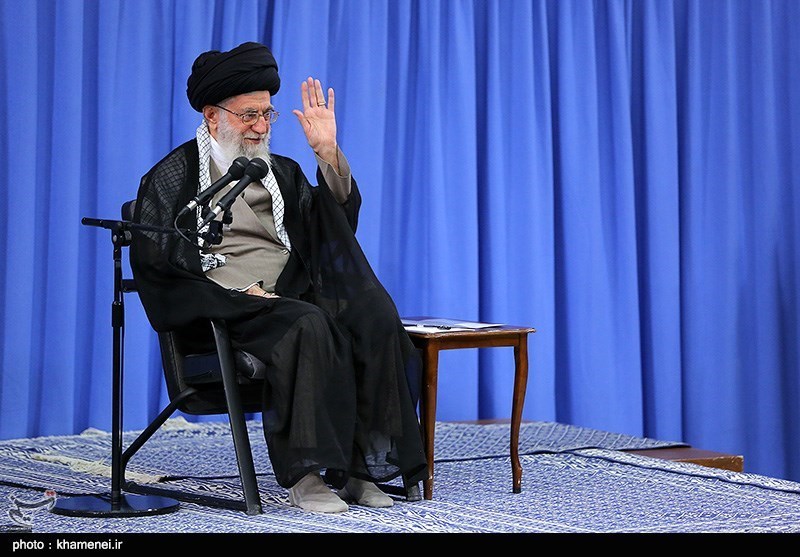 The Bahraini rulers' offense against prominent cleric Sheikh Qassim is a sign of their foolishness, Ayatollah Khamenei said in a gathering of families of the Iranian officials martyred in a bombing on June 28, 1981, and of the military advisers martyred in the fight against Daesh (ISIL) terrorist group, held in Tehran on Saturday evening.
Imam Khamenei hailed Sheikh Qassim as a leader that always prohibited the Bahraini people from taking "harsh and armed" actions in his speeches, noting that the Al Khalifa rulers are unaware that suppression of the prominent cleric "is tantamount to unclogging the road to the heroic and enthusiastic (feelings of) Bahraini youth for taking any measure against the regime."
Last week, Bahrain said the citizenship of Sheikh Qassim has been revoked, accusing him of sowing sectarian divisions. The decision has drawn widespread international condemnation.
Elsewhere in the meeting, Ayatollah Khamenei said the Islamic Establishment's power in an asymmetrical war against the arrogant powers originates from the faith in God and the Iranian pious and revolutionary youth's strong motivation, noting that the enemies still resort to violent and cruel tactics because of their inability to analyze those sources of power in Iran.
The Leader then referred to the creation of Takfiri-terrorist groups such as Daesh as an example of violent tactics against Iran, and noted, "The main purpose of setting up Takfiri-terrorist groups and their actions in Iraq and Syria was attacking Iran, but the Islamic Republic Establishment's power made them become grounded right there in Iraq and Syria."
Imam Khamenei explained that Takfiri-terrorist groups make no distinction between Shiite and Sunni Muslims and target any Muslim who stands with the Islamic Revolution and against the US.
As regards the Bahraini regime's conduct, the Leader said the point is not again about Shiites or Sunnis, but the crux of the matter is an authoritarian and egotistic minority trying to rule over a large majority.
Bahrain, a close ally of the US in the Persian Gulf region, has been witnessing almost daily protests against the ruling Al Khalifa dynasty since early 2011, with Manama using heavy-handed measures in an attempt to crush the demonstrations.
Scores of Bahrainis have been killed and hundreds of others injured and arrested in the ongoing crackdown on the peaceful demonstrations.
Amnesty International and many other international rights organizations have frequently censured the Bahraini regime for the rampant human rights abuses against opposition groups and anti-regime protesters.