Putin, Obama Ready to Increase Syria Coordination in Phone Call
TEHRAN (Tasnim) – The Kremlin says that both Russia and the US are ready to better coordinate efforts to eliminate terrorists in Syria, following a telephone conversation initiated by the Russian leader.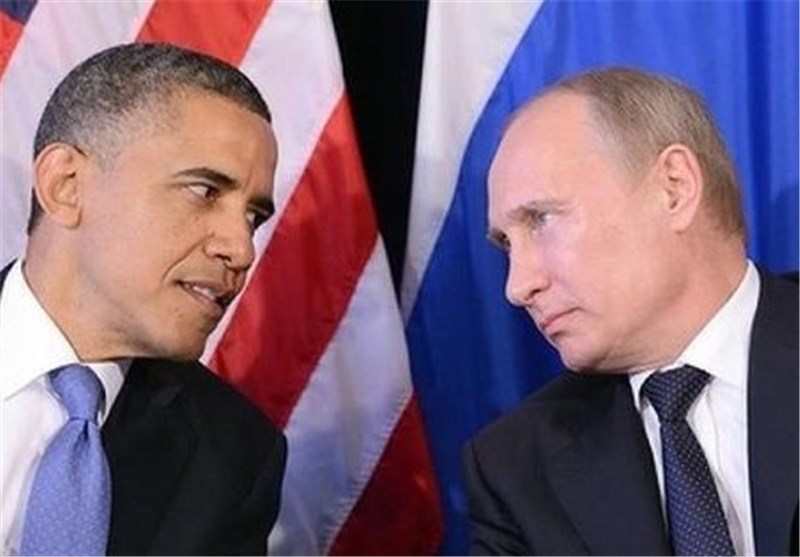 "Both sides have confirmed their readiness to increase military cooperation between Russia and the US in Syria," said a statement from the Kremlin released on Wednesday evening. "It is also important to resurrect the UN-mediated peace talks to arrive at a political solution of the crisis."
According to media reports last week, US officials have put forward a proposal that would see Russian and US air forces conduct joint strikes against Al-Nusra Front, an Al-Qaeda branch in Syria. So far, Russia has not commented on the reported initiative, which has supposedly been endorsed by both the Department of State and the Pentagon.
Washington hopes that the plan will also help the two sides agree on their definition of which forces should be included in the ceasefire, which was adopted in February. Vladimir Putin has repeatedly accused Al-Nusra of operating under the label of the so-called "moderate" opposition, and he returned to the topic in the phone conversation.
"Vladimir Putin called on his counterpart to separate, as soon as is possible, the definitions of moderate forces from Al Nusra, and other extremist groups," said the statement reported by Russia Today.
Obama and Putin also discussed the smoldering conflicts in countries which previously formed part of the Soviet Union.
The Kremlin said that Obama "gave a positive evaluation of Russia's efforts" to mediate the conflict between Armenia and Azerbaijan over Nagorno-Karabakh.
Baku and Yerevan have been caught up in conflict over the territory since the late 1980s. It 'froze' in 1994 after a ceasefire but violence broke out again in May this year. In June, St. Petersburg hosted talks between the leaders of the two nations and Vladimir Putin.
Putin also returned to the topic of the Minsk agreements, concerning Ukraine, and called on Kiev to follow the terms of the 18-month-old treaty, which has still not been fully implemented. Specifically, he has called for Ukrainian President Petro Poroshenko to engage in "direct dialog with Donetsk and Lugansk, carry out an amnesty, and award the regions special autonomous status."