Asian Cadet Wrestling Championship: Iran Greco Roman Team First, Freestylers Third
TEHRAN (Tasnim) - Iran's Greco-Roman team won the title of the 2016 Asian Cadet Wrestling Championship on Sunday.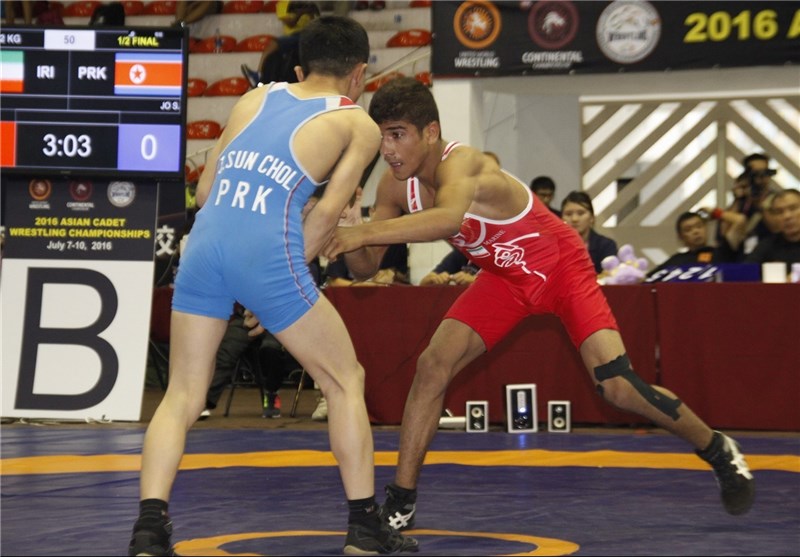 The Iranian team claimed six gold medals, one silver and one bronze in the competition.
Greco-Roman wrestlers won the title with 83 points.
Omid Hossein Arami (42kg), Mohammad Mashaealah Mehrabi (46kg), Mohammad Abbas Hosseinvand (50kg), Mohammad Reza Hojatollah Mokhtari (58kg), Hossein Jahanbakhsh Forouzandeh (76kg), and Hassan Jahanbakhsh Forouzandeh (85) won the gold medals.
Reza Ali Mardi Gheshlaghi won the silver in the 54kg and Mohammad Reza Mahmoud Rostami claimed bronze in the 69kg.
India and Kazakhstan came second and third with 74 and 70 points respectively.
Also, Iran's freestyle team came third in the competition with 75 points.
Freestylers won four gold medals, one silver and one bronze.
Amir Aliakbar Parasteh (50kg), Mohammadreza Javad Moradiani (76kg), Abolfazl Seyedabbasali (85kg), and Mehdi Seyedabasali (100kg) won the gold medals. Mohammad Fattah Talebi in the 63kg took the silver and Abolfazl Farhad Aramideh seized the bronze in the 42kg.
Kazakhstan claimed the title with 82 points and India became runner-up with 78 points.
The Asian Cadet Wrestling Championship was held in Taichung, Taipei Chinese from July 7 to 10.