Bahrainis Rally to Slam Top Shiite Cleric's Citizenship Revocation
TEHRAN (Tasnim) - People in Bahrain rallied in condemnation of the Al Khalifah regime's decision to strip Bahraini Shiite cleric Sheikh Issa Qassim of his citizenship, and voice their support for the distinguished religious scholar.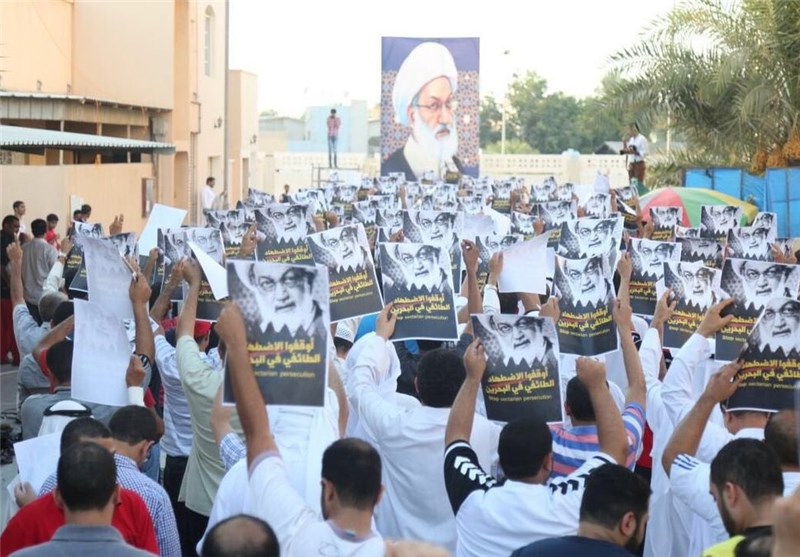 On Sunday evening, dozens of people took to the streets in the northwestern village of Diraz, situated about 12 kilometers (seven miles) west of the capital, Manama, to express their outrage at the measure against Sheikh Qassim.
Sheikh Qassim is the spiritual leader of Bahrain's main opposition bloc, the al-Wefaq National Islamic Society, whose secretary general, Sheikh Ali Salman, himself a prominent Shiite cleric, has been in prison since December 2014.
The protesters held up portraits of Sheikh Qassim, lit candles, chanted slogans and carried placards in support of the 79-year-old clergyman and in condemnation of the ruling dynasty, Press TV reported.
Bahraini authorities stripped Sheikh Qassim of his citizenship on June 20. Less than a week earlier, they had suspended al-Wefaq and dissolved opposition al-Risala Islamic Association and Islamic Enlightenment Institution, founded by Sheikh Qassim.
Since February 14, 2011, thousands of anti-regime protesters have held numerous demonstrations in Bahrain on an almost daily basis, calling on the Al Khalifah family to relinquish power.
In March that year, troops from Saudi Arabia and the United Arab Emirates — themselves repressive Arab regimes — were deployed to the country to assist the Bahraini government in its crackdown on peaceful protests.
Scores of people have been killed and hundreds of others injured or arrested in the Bahraini crackdown on the anti-regime activists.
In their Sunday rally, the Bahraini marchers also showed solidarity with the victims of car bomb attacks in busy commercial areas in the Iraqi capital, Baghdad, on July 3.
At least 292 civilians lost their lives and many more sustained injuries in the acts of terror, which were claimed by the Takfiri Daesh terrorist group.