Iran's Rouhani Hails Restoration of Calm to Turkey after Failed Coup Attempt
TEHRAN (Tasnim) – Iranian President Hassan Rouhani voiced satisfaction over the return of "stability" and "security" to Turkey after an abortive coup attempt against the Turkish government.
According to a message posed on Rouhani's Twitter account, the Iranian president on Monday held a telephone conversation with his Turkish counterpart Recep Tayyib Erdogan and hailed the restoration of calm to Turkey after a failed military coup in the country.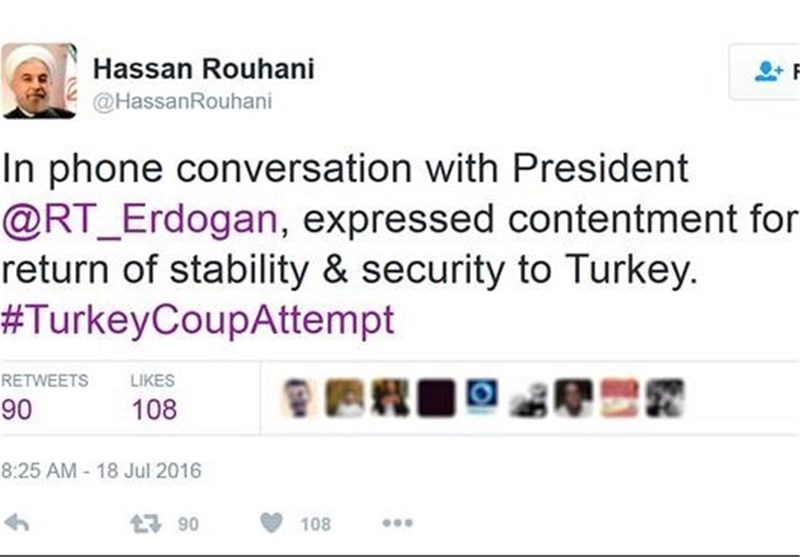 Stressing that the Turkish nation defended democracy and their elected government, he said, "Fortunately, the Turkish people showed their political maturity during the coup and proved that bullying methods have no place in our region".
President Rouhani added that the stability returned to Iran's neighboring country under the resistance of the Turkish nation as well as the good management of President Erdogan.
Iran has been closely monitoring the developments in Turkey, the Iranian President said, adding, "Just as we struggle for our country's stability and security, it is incumbent upon us to shoulder responsiblity for the stability and security of our friendly and neighboring countries".
Erdogan, for his part, thanked President Rouhani's phone call and said Ankara is resolved to continue its cooperation with Tehran and Moscow to help restore peace and stability to the region.
The telephone conversation came after Turkey's government crushed a coup launched by a faction in the army against President Recep Tayyip Erdogan.
Following the Saturday coup attempt, Turkish authorities rounded up nearly 3,000 suspected plotters and ordered thousands of judges detained.