Protesters Ejected from Donald Trump Rally after Holding Up Pocket Constitutions
TEHRAN (Tasnim) – Several protesters were thrown out of Republican presidential nominee Donald Trump rally in Portland, Maine, after they interrupted the GOP nominee's stump speech by standing and holding up pocket-sized copies of the US Constitution in the air.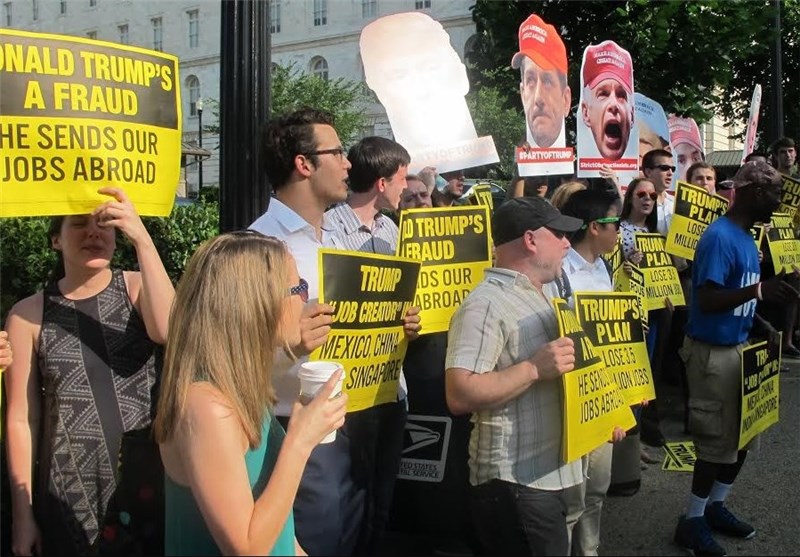 Last week, Khizr Khan, the father of a slain American war hero who was Muslim, held up his own well-worn pocket Constitution on stage at the Democratic convention and lambasted Trump for his proposal to ban Muslims from the US "Let me ask you, have you even read the US Constitution?" he asked.
Sales of the constitution soared on Amazon.com after Khan's blistering speech. A version of the founding document currently ranks fifth on the website's best-seller list.
Trump responded to the protesters by calling them "rude," the Huffington Post reported.
"It's sort of rude, when you think about it," he said. "We want jobs, we want health care. We're looking for the same thing. You want to have a good life. You want safety. And then we have people interrupting constantly."
"I sorta miss my protesters," he added, referring to previous demonstrators at his rallies. "The Bernie [Sanders] people had spirit. You don't get it from Hillary."