Iranian Speaker Warns of Adverse Effects of Regional Conflicts on Muslims
TEHRAN (Tasnim) – Iran's Parliament Speaker Ali Larijani urged concerted action by Muslim countries to settle regional conflicts via political approaches, warning that the skirmishes undermine the Islamic community.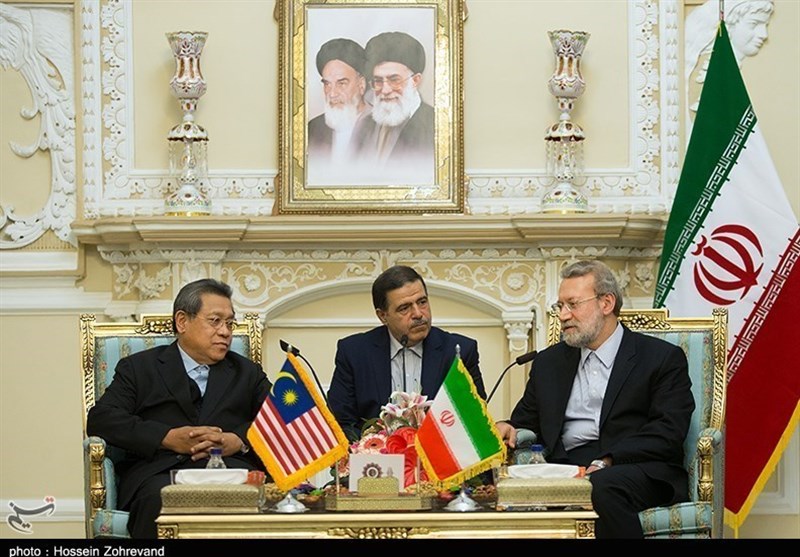 The Israeli regime is the one that gets the maximum benefit from the clashes in the Middle East, Larijani warned, stressing that regional conflicts should not lead to the sapping of the Islamic community's strength.
He made the comments at a meeting with his Malaysian counterpart Tan Sri Pandikar Amin Mulia, held in Tehran on Tuesday.
Larijani also underscored that finding a political solution to regional crises will require constant cooperation among Muslim nations.
The Iranian speaker further called for the expansion of economic relations between Tehran and Kuala Lumpur by facilitating banking ties and closer interaction between the two sides' private sectors.
For his part, the Malaysian speaker hailed Iran as a major country with an influential role in the establishment of regional security and stability.
Amin Mulia also stressed the need for implementation of agreements with Iran and for broader economic ties, particularly in the oil land gas industry.
The Malaysian official arrived in Tehran on Tuesday for an official visit at the invitation of Larijani to discuss bilateral issues in meetings with senior Iranian authorities.