Iranian FM, Nicaraguan President Meet in Managua
TEHRAN (Tasnim) – Iranian Foreign Minister Mohammad Javad Zarif and Nicaraguan President Daniel Ortega held talks at a meeting in the Central American country's capital, Managua.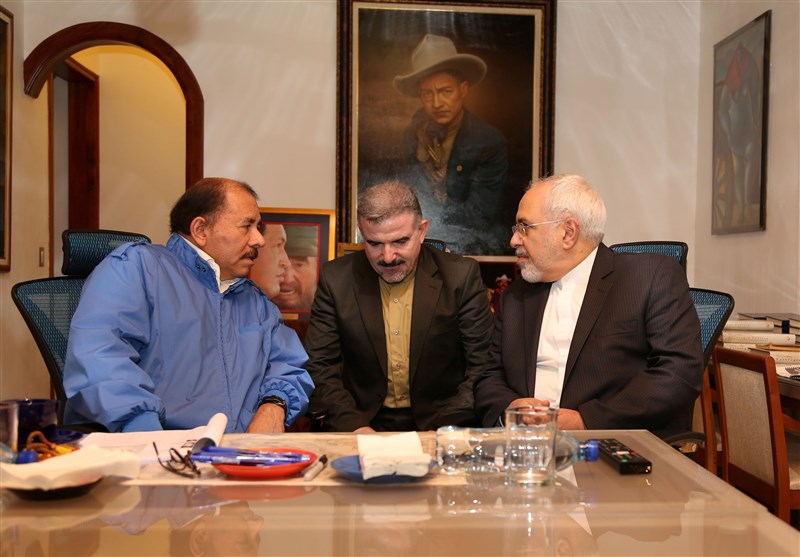 The meeting took place at Nicaragua's presidential palace on Tuesday night, local time.
Details of the gathering have not been made public, but the two officials have likely talked about the expansion of bilateral relations, an upcoming Non-Aligned Movement summit in Venezuela, as well as the latest developments in the Middle East and Latin America, according to IRNA.
Heading a 120-strong delegation of Iranian business people and economic officials, Zarif arrived in Nicaragua on Tuesday in the second leg of his six-nation tour of Latin America, after paying a visit to Cuba.
The top Iranian diplomat's schedule in Nicaragua began with meetings with the country's parliamentarians. He also addressed a conference on the opportunities for Iran-Nicaragua economic cooperation.
Zarif and his entourage have also flown to Ecuador, and are scheduled to visit Chile, Bolivia, and Venezuela afterwards.
Iran's Foreign Ministry has announced that the tour of Latin America signifies Tehran's plans to boost non-oil exports.