Iranian, Afghan FMs Discuss Bilateral Ties, Ways to Tackle Terrorism
TEHRAN (Tasnim) – Iranian Foreign Minister Mohammad Javad Zarif and his Afghan counterpart Salahuddin Rabbani in a meeting in Tehran on Monday conferred on the ways to confront the threat of terrorism, boost ties between the two neighboring countries.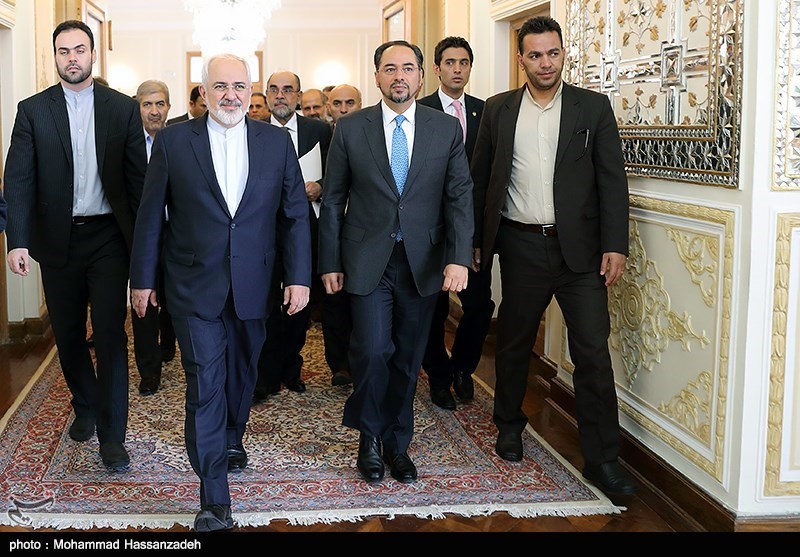 At the meeting, Zarif underlined the necessity to fight all extremist Takfiri groups.
As regards bilateral ties, the Iranian minister said Tehran attaches special importance to the state of affairs in Afghanistan.
"As I have repeatedly announced in meetings with all Afghan officials, we regard your progress, stability and security as our own progress, stability and security."
Rabbani, for his part, said several visits by Afghan officials to Iran indicate the importance of the Islamic Republic for Kabul.
He also hailed an order by Leader of the Islamic Revolution Ayatollah Seyed Ali Khamenei about schooling for all Afghan children in Iran.
In a meeting with Chief Executive Officer of the Afghanistan's government, Abdullah Abdullah, in January, Ayatollah Khamenei ordered that all Afghan children in Iran be permitted schooling regardless of their residency status.
Rabbani arrived in Tehran on Sunday for an official visit to hold talks with senior Iranian officials on issues of common interest.