Charlie Hebdo Slammed for 'Lasagna' Cartoon on Italy Quake Victims
TEHRAN (Tasnim) – Controversial French satirical magazine Charlie Hebdo has provoked fresh outrage with its response to last week's devastating earthquake in central Italy.
September, 03, 2016 - 14:59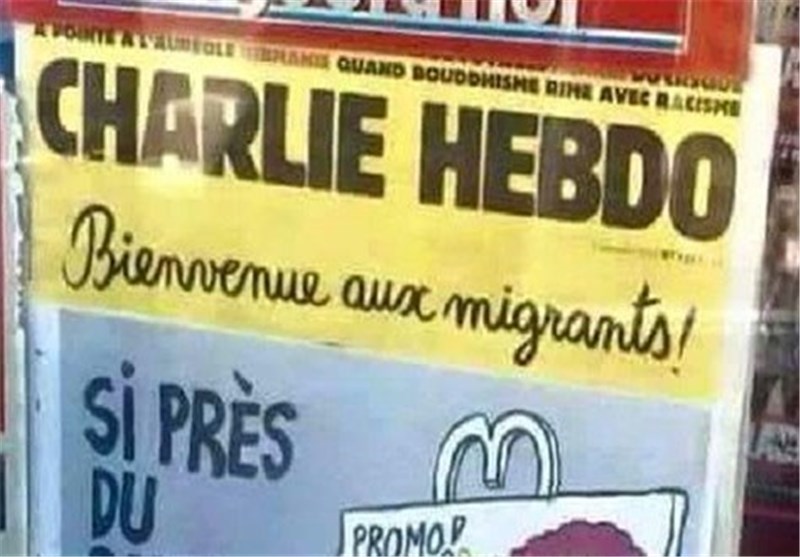 The latest edition of the edgy French publication features a cartoon entitled "Earthquake, Italian-style," which depicts victims of the 6.2-magnitude quake with varying degrees of injury, each likened to an Italian recipe.
A severely bleeding man is labelled "penne with tomato sauce." A woman with a badly bruised or burned face is "penne au gratin." And a pile of victims pancaked beneath a collapsed building, their legs sticking out from the bloodied rubble, is "lasagna."
The cartoon prompted a swift response in Italy and online.
Sergio Pirozzi, the mayor of devastated Amatrice -- a town whose reputation for its renowned all'amatriciana pasta sauce recipe was referenced in the cartoon -- labeled it an "unpleasant and embarrassing satire."
"I'm sure it doesn't correspond to the real sentiment of the French people," he said, according to Italian national news agency ANSA.
"Irony is always welcome, but you can't satirize disasters and the dead," he said. "We will show the Italian people are a great people, during the emergency as during the reconstruction."
More than 180 people were killed in Amatrice, and much of the town leveled.
The hashtag #CharlieHebdo was soon trending on Twitter, with many expressing disgust at the cartoon for ridiculing the victims of the quake, which killed nearly 300 people and left many villages in ruins.
"They hide themselves behind 'satire.' Leave your office, come here and stand in front of those people who've lost EVERYTHING," wrote Twitter user @_letmehugharry.
"This is not satire anymore, this is pure disrespect for those who lost their lives, I'm disgusted," wrote Twitter user @alyciaxuality.

Unapologetically controversial
The cult weekly magazine was thrust into the global spotlight in January 2015, when two gunmen, angered by the magazine's satirical approach to religion, attacked its Paris office, killing 12.
The atrocity prompted an outpouring of solidarity for the magazine from across the world, with sympathizers mobilizing under the slogan "Je Suis Charlie."
But the magazine's unflinchingly provocative approach has subsequently led many who once rallied around it in the name of freedom of speech to disavow the publication.
In January, the magazine was slammed for a cartoon that suggested drowned toddler Alan Kurdi -- the 3-year-old Syrian boy whose death sparked a global wave of sympathy for migrants -- would have grown up to be a sexual molester of the type blamed for mob sex assaults in Germany.