1st Mass in Iraqi Christian Town Since Daesh Expunged
TEHRAN (Tasnim) – A Mass was held for the first time in over two years in Iraq's main Christian town which was recently liberated by government forces.
October, 31, 2016 - 12:37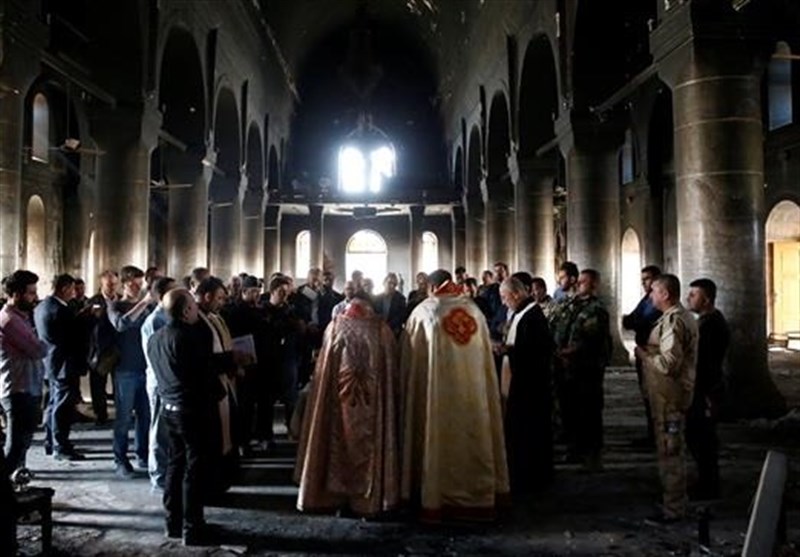 Qaraqosh was captured from Daesh (ISIL or ISIS) terrorists as part of a major offensive to liberate Mosul, the Takfiri terrorists' last stronghold in Iraq.
"Today Qaraqosh is free of Daesh," said Syriac Catholic Archbishop of Mosul Butrus Moshe on Sunday, Press TV reported.
Church bells could be heard throughout the town for the first time since Daesh seized Mosul and issued an ultimatum to Christians -- pay a tax, convert to Islam, or be executed.
"Our role today is to remove all the remnants of Daesh," said the archbishop. "This includes erasing sedition, separation and conflicts, which victimized us," added Moshe, who was born in Qaraqosh.
"Political and sectarian strife, separating between one man and another, between ruler and follower, these mentalities must be changed," he added.
"We had no other choice but to convert or become slaves. We fled to preserve our faith. Now we're going to need international protection," said Father Majeed Hazem.
"I can't describe what I'm feeling. This is my land, my church," said Samer Shabaoun, an Iraqi soldier who was involved in operations to retake the town.
"They used everything against us: they shot at us, they sent car bombs, suicide attackers. Despite all this, we're here," he added.
There are reports that about 50,000 Iraqi ground troops are involved in the Mosul offensive, including 30,000 army troops, 10,000 Kurdish Peshmerga fighters and the remaining 10,000 from police and Popular Mobilization Units.