Turkish Police Detain 235 People after Deadly Bombing
TEHRAN (Tasnim) – Turkey's police rounded up more than 200 people, mostly Kurds, as the country mourned the dozens killed in a bombing attack near an Istanbul football stadium.
December, 13, 2016 - 10:54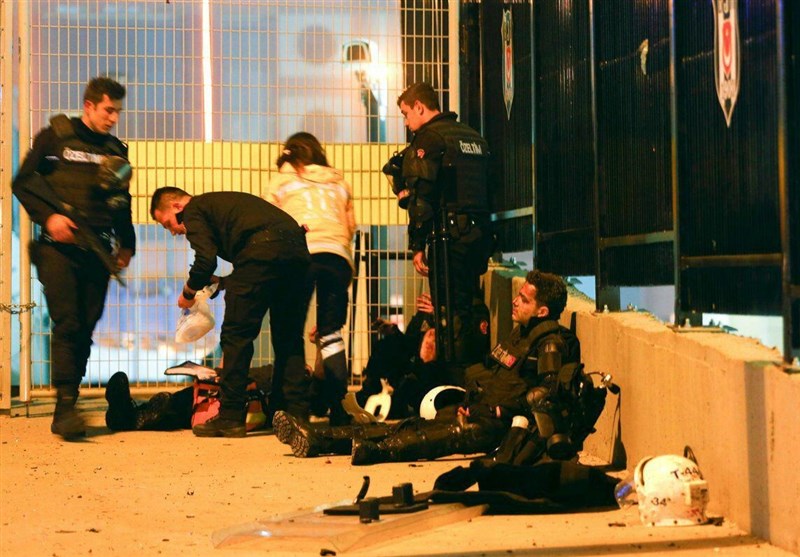 The Turkish Interior Ministry issued a statement saying 235 people were detained in 11 cities for their alleged connections to a terrorist organization. The detainees were affiliated with the outlawed Kurdistan Workers' Party, or PKK, and a Kurdish umbrella organization, and included individuals deemed guilty of spreading terrorist propaganda on social media, the statement said.
The majority of those arrested, according to local media reports documenting the raids, were members of a pro-Kurdish party that was elected to the Turkish Parliament in 2014. Among them were two provincial leaders and an Ankara representative of the Peoples' Democratic Party, or HDP.
The ministry statement did not specify whether those rounded up were suspected of direct involvement in two bombings outside and near a stadium in Istanbul Saturday night that killed 44 people and wounded more than 149 others, according to the latest tally, according to AP.
A violent Turkey-based Kurdish faction that is viewed by authorities and analysts as a PKK offshoot claimed responsibility for the attack. Health Minister Recep Akdag said that the dead included 36 police officers and eight civilians. Funeral ceremonies were held in Istanbul with senior officials in attendance.
The attack following a Turkish Super League match caused deep shock in the football-loving nation and triggered patriotic demonstrations denouncing terrorism.
Taxi drivers drove around the recently inaugurated Besiktas stadium, named after the team and neighborhood, waving Turkish flags.
Scores of demonstrators marched near Istanbul's main police station to denounce the twin bombings in a rally organized by a union.