Gorbachev Says US Was Short-Sighted on Soviets
TEHRAN (Tasnim) – The former Soviet Union president thinks the United States and its Western allies' failure to offer significant help wasted a chance to build a safer world and resulted from short-sighted gloating at a Cold War rival's demise.
December, 13, 2016 - 18:05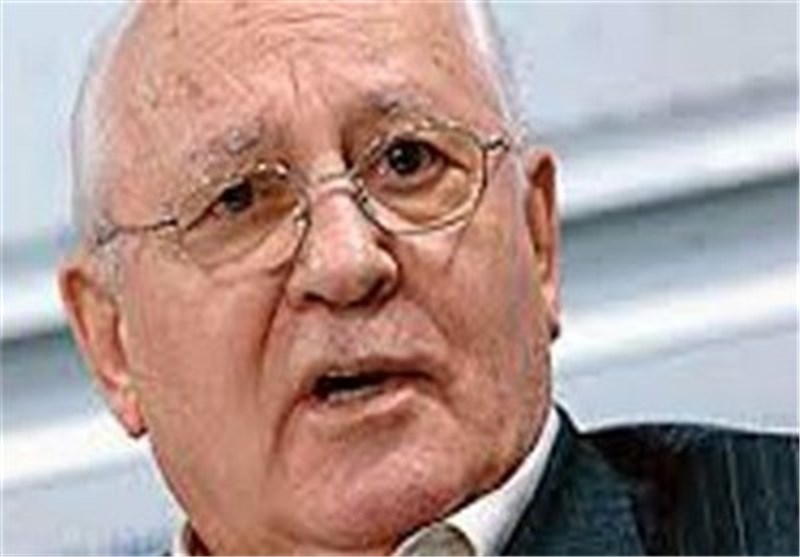 In a wide-ranging interview with The Associated Press, the 85-year-old Gorbachev voiced hope that Russia and the United States would do better and ease current tensions during Donald Trump's presidency.
"The relations between us are so important and concern everyone else, so we must take the interests of others into account," said the leader credited with helping to end the Cold War.
Gorbachev said he had expected Hillary Clinton to win the US presidential race and was surprised by Trump's victory. He declined to offer an assessment of Trump, saying it remains to be seen what policies the new US administration will pursue.
"He has little political experience, but, maybe, it's good," he said.
Gorbachev walked slowly with a cane, but his smile was as captivating as always, his wits as sharp as usual and his reactions quick during the rare, hour-long interview at his foundation's office in Moscow.
Gorbachev, who helped end the Cold War by launching sweeping liberal reforms, cutting nuclear stockpiles and allowing Soviet bloc nations in Central and Eastern Europe to break free from Moscow's diktat, spoke bitterly about the West's failure to embrace a new era of friendly cooperation he said his policy of "perestroika" offered.
"They were rubbing their hands, saying, 'How nice! We had been trying to do something about the Soviet Union for decades, and it ate itself up!'" Gorbachev said.
He blasted what he described as Western "triumphalism," saying it remains a key factor in tensions between Russia and the West.
Ties between Russia and the West are worse than they have been at any time since the Cold War following Moscow's annexation of Ukraine's Crimea peninsula in March 2014 and its support for a pro-Russian separatist insurgency in eastern Ukraine. The US and the European Union responded with several rounds of economic sanctions, which along with low oil prices have driven Russia's economy into recession.
Russian President Vladimir Putin has accused the US of trying to isolate and weaken the nation, pointing to the deployment of NATO forces near Russia's borders as a sign of hostile intentions. The war in Syria, where Russia has waged an air campaign in support of the President Bashar Assad, has added to the tensions.
Gorbachev said Russian and US leaders must sit down for talks and "stay at the table until they reach agreement."
"The world needs Russia and the United States to cooperate," Gorbachev said. "Together, they could lead the world ... to a new path."
He defended Russia's action to annex Crimea, pointing out that Soviet leader Nikita Khrushchev arbitrarily transferred Crimea from Russian to Ukrainian administrative control in 1954, a decision that mattered little until the Soviet collapse.
He also noted that the annexation followed a popular vote in which the residents of the Black Sea peninsula overwhelmingly backed joining Russia.
"When people say yes, a decision must be made," he said.