Iran's FM Goes to Russia for Syria Talks despite Ankara Terror Attack
TEHRAN (Tasnim) – Iranian Foreign Minister Mohammad Javad Zarif left Tehran for Moscow on Tuesday morning for a meeting with his Russian and Turkish counterparts for talks on Syria despite the assassination of Russia's ambassador in Ankara.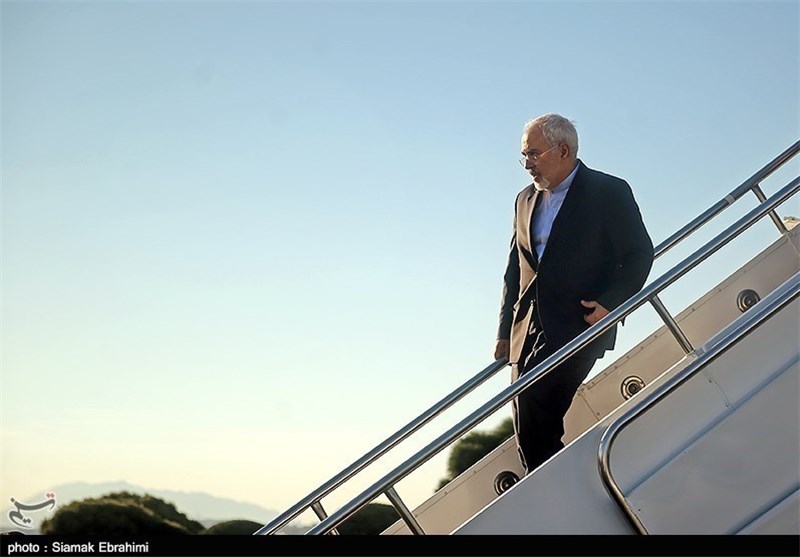 Foreign Ministers Zarif will hold a meeting with Russia's Sergei Lavrov and Turkey's Mevlut Cavusoglu to discuss the latest developments in Syria, after liberation of the strategic city of Aleppo.
On Monday night, speculations arose about cancellation of the trilateral meeting after assassination of Russia's ambassador to Ankara. Andrey Karlov was shot in the back and killed by an off-duty Turkish police officer as he gave a speech at an Ankara art gallery.
Russian Foreign Minister Sergei Lavrov announced that the three-party meeting on Syria will proceed on December 20 despite the assassination incident.
"We are sure that those who staged that barbaric crime were seeking to derail the process of normalizing Russia-Turkey ties," Lavrov said, echoing an earlier statement by Russian President Vladimir Putin.
Putin called the killing a "provocation aimed at derailing Russia-Turkey ties and the peace process in Syria."
Turkish authorities said the shooter was a riot policeman, Mevlut Mert Altintas, 22. A video showed the attacker shouting "Don't forget Aleppo, don't forget Syria" as screams rang out.
The Syrian Army recaptured the northwestern city of Aleppo from terrorist groups last week after a four-year battle with the military support from its allies, including Russia and Iran.
Syria has been gripped by civil war since March 2011 with various terrorist groups, including Daesh (ISIL), controlling parts of it.