Iranian FM, DM in Russia for Talks on Syria
December, 20, 2016 - 11:43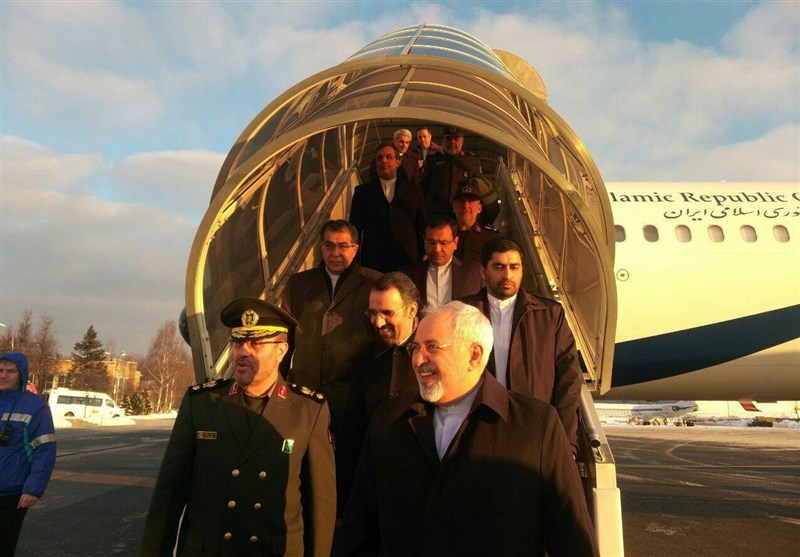 TEHRAN (Tasnim) – Iranian Foreign Minister Mohammad Javad Zarif and Defense Minister Brigadier General Hossein Dehqan have paid a visit to Moscow to meet with senior Russian officials and discuss issues of mutual interests, the Syrian crisis in particular.
Heading high-ranking delegations, Zarif and Dehqan arrived in Moscow on Tuesday morning to hold trilateral talks with their Russian and Turkish counterparts on various issues, particularly Syria.
Zarif will hold a meeting with Russia's Sergei Lavrov and Turkey's Mevlut Cavusoglu to discuss the latest developments in Syria, after liberation of the strategic city of Aleppo.
The defense ministers of the three countries have also agreed to hold talks in the Russian capital later today on the latest developments in Syria, particularly after liberation of the city of Aleppo from terrorist groups.
The meeting of the foreign ministers was initially slated for December 27, but Iran and Russia decided to convene it a week earlier, considering the rapid pace of developments in Syria.
The Syrian army took nearly all remaining terrorist-held parts of Aleppo last week after a four-year battle. Hundreds of foreign-backed terrorists have surrendered in Aleppo in recent days.
However, the evacuation of people from Aleppo has been hampered as the terrorist groups violated an agreement with the Syrian government by trying to take hostages with them.
Syria has been gripped by civil war since March 2011 with various terrorist groups, including Daesh (ISIL), controlling parts of it.