Evacuation of Syria's Kefraya, Foua Underway; 8 More Buses Enter Aleppo + (Photos)
December, 20, 2016 - 13:45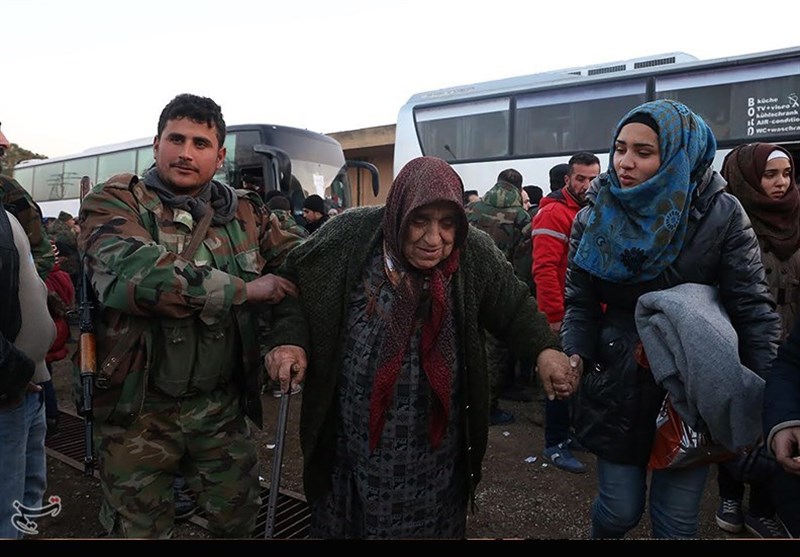 DAMASCUS (Tasnim) – At least 400 more people were evacuated from the two Syrian towns of Kefraya and al-Foua on Tuesday as part of a deal between Damascus and Takfiri terrorists.
According to Tasnim dispatches, a convoy of eight buses carrying over 400 evacuees, including the wounded and sick, left Kefraya and al-Foua in the Idlib province on Tuesday.
On Monday, 10 buses transported nearly 600 people out of the two towns.
They later arrived at a temporary shelter in Jibreen, an industrial area just east of Aleppo.
Simultaneously, a total of about 15,000 militants and their families have been evacuated from the eastern part of the embattled Syrian city of Aleppo.
Since the early hours of Monday, as many as 65 buses have transferred the evacuees from Aleppo's eastern side to militant-held territory in Khan Tuman, a village southwest of Aleppo, and Idlib.
According to Syrian media, evacuation of the wounded and civilians trapped in the two Shiite-populated towns was a condition for the evacuation of militants in eastern Aleppo.
Recently, Russia and Turkey reached a deal enabling the evacuation of thousands of trapped civilians and militants from Aleppo.
The process was, however, halted after the militants violated the ceasefire deal and blocked the transfer of civilians from Kefraya and al-Foua.
Foua and Kafarya are the only government-held enclave in Idlib's militant-held area. The towns of some 20,000 people have been under siege since 2013. The humanitarian situation remains dire, with a lack of food and basic necessities.