Iran's Shamkhani: Any Dialogue Undermining Syrian Territorial Integrity Doomed to Failure
December, 31, 2016 - 19:04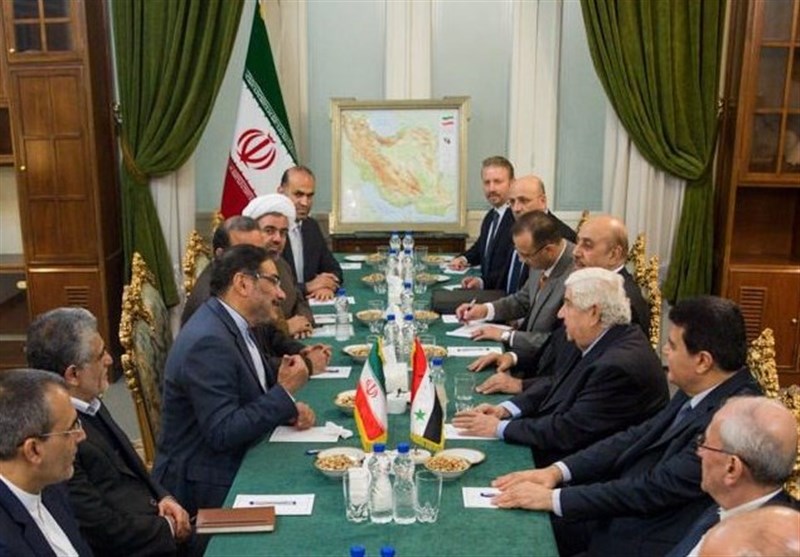 TEHRAN (Tasnim) – Secretary of Iran's Supreme National Security Council (SNSC) Ali Shamkhani underlined that any negotiations about Syria that undermine the Arab country's sovereignty and territorial integrity will get nowhere.
Speaking Saturday at a meeting in Tehran with Syria's Foreign Minister Walid al-Muallem and the special security adviser to the Syrian president, Ali Mamlouk, Shamkhani praised the recent achievements of the Syrian army in its battle against foreign-backed terrorists.
He referred to the return of armed groups to the negotiating table and their giving in to the conditions laid down by the Syrian government for a ceasefire as being the outcome of the Syrian forces' achievements in the battlefield, the liberation of the northwestern city of Aleppo in particular.
The Iranian official added that given the numerous cases of ceasefire violations by terrorist groups in Syria in the past, the only thing that can guarantee adherence of the armed groups to any agreement is maintaining Syrian military authority and control over their activities.
Shamkhani further stressed that any political path or dialogue that undermines the sovereignty of Syria's legitimate government over the country's entire territory or seeks some parts of Syria to fall into the hands of terrorist groups "is doomed to failure."
During the meeting, Muallem and Major General Mamlouk briefed the Iranian side on the latest political and military developments in Syria and the recent nationwide ceasefire reached in the war-torn country.
Syria has been gripped by civil war since March 2011 with various terrorist groups, including Daesh (also known as ISIS or ISIL), currently controlling parts of it.
According to a report by the Syrian Center for Policy Research, the conflict has claimed the lives of over 470,000 people, injured 1.9 million others, and displaced nearly half of the country's pre-war population of about 23 million within or beyond its borders.
In the meantime, Iran has remained a close ally of Syria and supports its legitimate government in the face of foreign-backed militancy.