Iran's Velayati Hails Aleppo Liberation as "Great Victory" for Resistance Front
TEHRAN (Tasnim) – Head of the Strategic Research Center of Iran's Expediency Council Ali Akbar Velayati commended the recent liberation of Syria's northwestern city of Aleppo from foreign-backed terrorists and described the achievement as a major triumph for the (anti-Israeli) Resistance Front.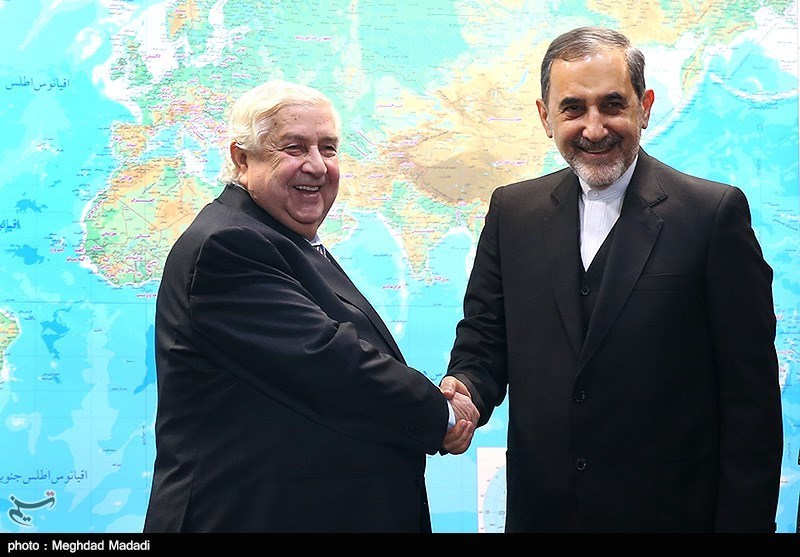 Speaking at a meeting with visiting Syrian Foreign Minister Walid al-Muallem in Tehran on Sunday, Velayati offered his congratulations on the liberation of Aleppo and said that, as acknowledged by Syria's friends and enemies, the liberation is a "great victory for the Resistance Front".
The official further highlighted the long-lasting relations between Tehran and Damascus, saying that as in the past, the Islamic Republic will continue boosting its "strategic" ties with the Arab country.
Muallem, for his part, said the liberation of Aleppo was a joint victory for the Iranian and Syrian nations, adding that all forces of the Resistance Front joined hands to achieve such a victory.
He further expressed gratitude to the Iranian people and government for backing his country, saying that the support provided by Iran in political, military and economic fields aimed to eradicate global terrorism and find a political solution to the Syrian crisis.
On December 15, Syria announced the liberation of Aleppo, with President Bashar al-Assad praising the victory as "history in the making and worthy of more than the word 'congratulations'."
Syria has been gripped by civil war since March 2011 with various terrorist groups, including Daesh (also known as ISIS or ISIL), currently controlling parts of it.
According to a report by the Syrian Center for Policy Research, the conflict has claimed the lives of over 470,000 people, injured 1.9 million others, and displaced nearly half of the country's pre-war population of about 23 million within or beyond its borders.
In the meantime, Iran has remained a close ally of Syria and supports its legitimate government in the face of foreign-backed militancy.
Tehran insists that the Syrian nation is the only side that has the right to shape the future of its own country, rejecting foreign intervention with the use of force.