Iran's Velayati Underlines Importance of Astana Meeting on Syria
TEHRAN (Tasnim) – Head of the Strategic Research Center of Iran's Expediency Council Ali Akbar Velayati underlined that the upcoming meeting on Syria in the Kazakh capital of Astana is highly important for resolution of the Arab country's prolonged crisis.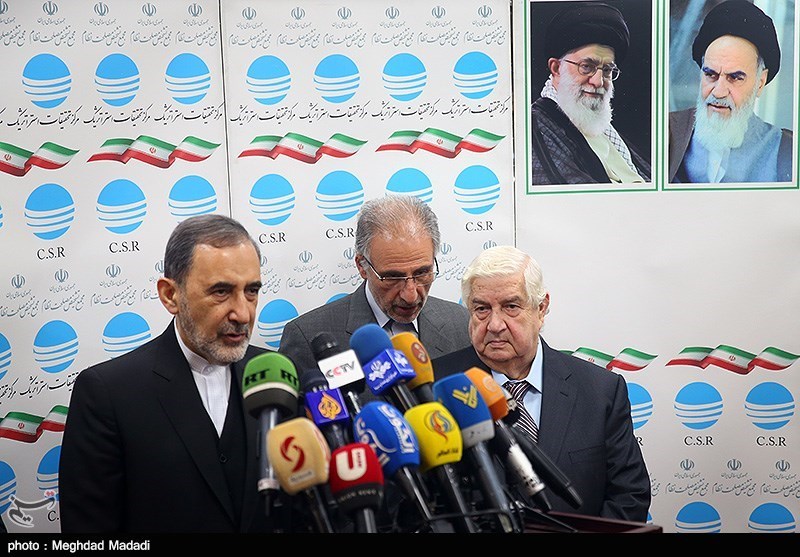 Speaking to reporters in Tehran on Sunday on the sidelines of his meeting with visiting Syrian Foreign Minister Walid al-Muallem, Velayati pointed to a new round of negotiations on Syria planned to be held in Kazakhstan and said close cooperation among Syria, Iran and Russia is very significant when it comes to the political talks between the Syrian government and opposition groups.
He emphasized that the talks are planned to be held without the presence of terrorist groups like Daesh (ISIL or ISIS) and Jabhat al-Nusra, adding that opposition groups that have laid down their weapons would participate in the talks with the Syrian government.
Velayati went on to say that the Astana meeting will include only Syrians and will be held without participation of a third country.
The remarks came after the UN Security Council on Saturday unanimously passed a resolution that was drafted by Russia and endorses a ceasefire in Syria.
Security Council members welcomed the agreement reached through the mediation of Iran, Russia, and Turkey and stressed the importance of its "full and immediate implementation."
They also stressed that they see the upcoming Astana meeting as an important step in the process toward the reconciliation of the Syrian conflict, according to media reports.
The UN body further reaffirmed its commitment to the "sovereignty, independence, unity and territorial integrity of the Syrian Arab Republic" and reiterated that the only way to resolve the Syrian crisis is to begin a complex inter-Syrian political process.