In Iraq, Hollande Says Daesh Battle Prevents Attacks at Home
TEHRAN (Tasnim) – Supporting military operations against the Daesh terrorist group is key to preventing terror attacks at home, French President Francois Hollande said Monday during a visit to Iraq.
January, 02, 2017 - 13:30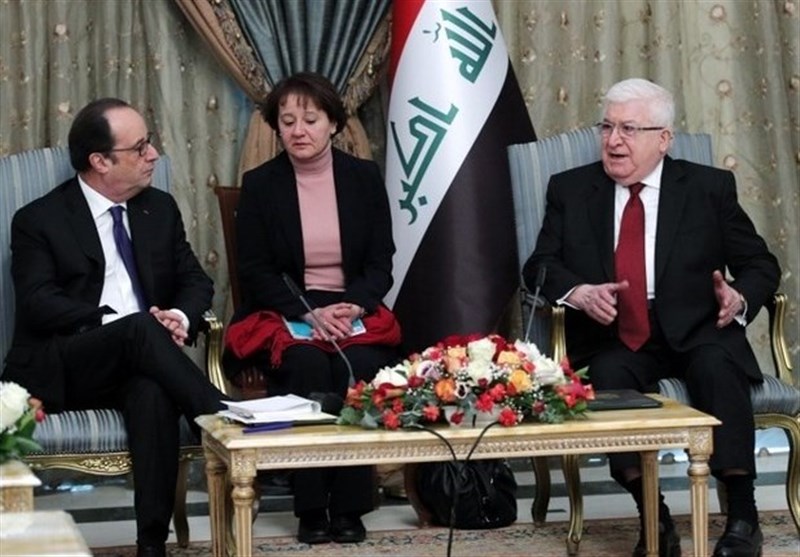 The French president, who is travelling with his Defense Minister Jean-Yves Le Drian, will also stop in the northern region of Kurdistan during his one-day visit.
"Taking action against terrorism here in Iraq is also preventing acts of terrorism on our own soil," he said at a base of Iraq's elite Counter-Terrorism Service near Baghdad, AFP reported.
Daesh terrorists took over second city Mosul in June 2014 and swept across much of the country's heartland.
The militants then gained more territory in August 2014, forcing hundreds of thousands of people to flee from areas that had been controlled by the Kurdish peshmerga forces.
Hollande is also expected to voice support for reconciliation and unity in Iraq.
"He will stress the importance of continuing efforts to ensure sustainable security in the country after Daesh has been defeated and the coexistence of communities in a united and sovereign Iraq," a source in the French presidency said.
Hollande was scheduled to hold talks with Iraqi Prime Minister Haider al-Abadi, President Fuad Masum, a Kurd, and parliament speaker Salim al-Juburi.
The French president began his trip with a visit to a base near Baghdad where French forces are training Iraq's elite Counter-Terrorism Service, the force that has spearheaded most major anti-Daesh operations in Iraq since 2014.