Rouhani: Islamic World Should Pay Price of Supporting Palestine
TEHRAN (Tasnim) – Muslim countries are duty-bound to support the Palestinian nation and should pay the price of such backing, Iranian President Hassan Rouhani stressed.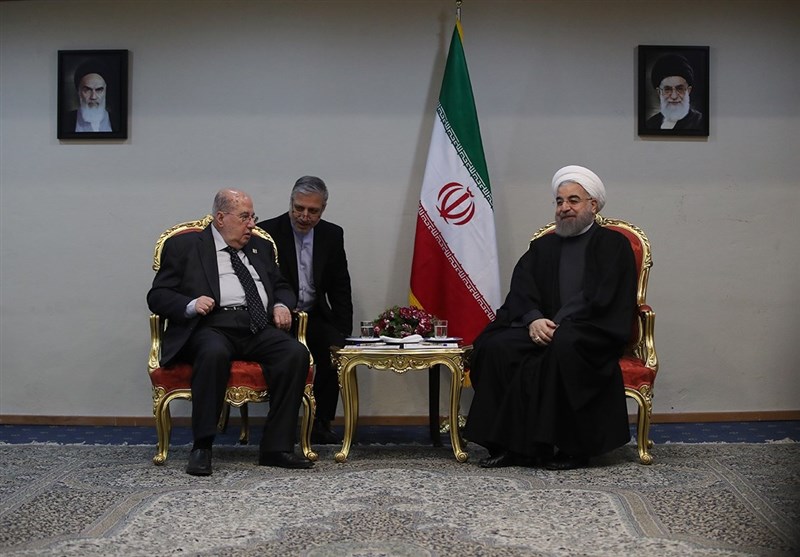 "We believe that the Islamic world should stand firm for restoring the rights of the Palestinian nation and is duty-bound to pay the necessary price too," President Rouhani said at a meeting with Chairman of the Palestinian National Council Salim Zanoun in Tehran on Wednesday.
Highlighting the heavy price that Iranian people have paid so far to support Palestine and oppose the Zionist regime of Israel, the president reaffirmed Tehran's commitment to keep supporting Palestinians.
President Rouhani also referred to the 6th international conference on Palestinian Intifada (uprising) in Tehran as a sign of Iran's unwavering support for the people of Palestine, saying the Islamic Republic attaches significance to any move to restore the rights of Muslims.
For his part, Zanoun expressed gratitude to Iran for throwing its weight behind the Palestinian nation and the cause of Palestine.
Islamic countries should join hands and not allow any issue to overshadow the fundamental subject of liberation of Palestine and countering the Zionist regime's crimes, he underlined.
Around 700 foreign officials and intellectuals, including 18 parliament speakers, are in Tehran to attend the international conference on Palestine. The two-day gathering also includes representatives of anti-Israeli Palestinian resistance groups