Chomsky: US, Not Iran, Greatest Threat to Global Peace
TEHRAN (Tasnim) – Leading American political analyst and philosopher Noam Chomsky said the world agrees that it is the US government that is the greatest threat to the global peace, not Iran.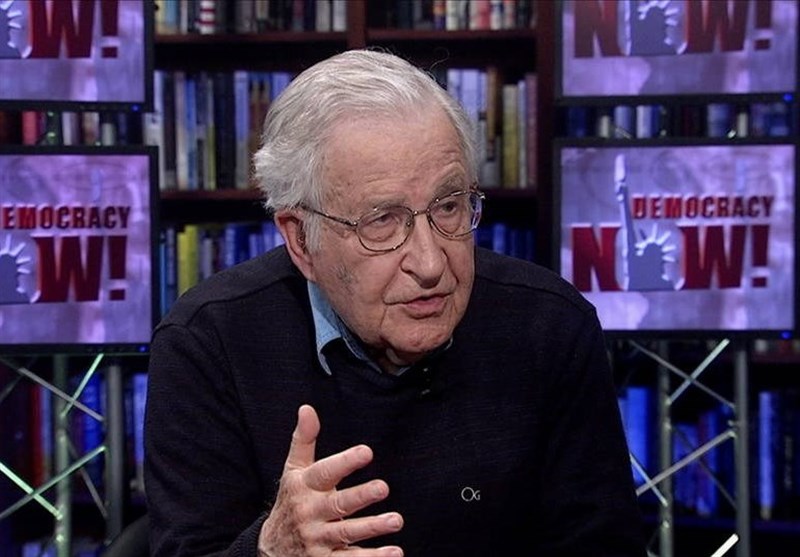 "That (war with Iran) has been going on for years. Right through the Obama years, Iran was regarded as the greatest threat to world peace. And that's repeated over and over. 'All options are open,' Obama's phrase, meaning, if we want to use nuclear weapons, we can, because of this terrible danger to peace," Chomsky said in an interview with Democracy Now on Tuesday.
He added, "Actually, we have—there's a few interesting comments that should be made about this. One is, there also is something called world opinion. What does the world think is the greatest threat to world peace? Well, we know that, from US-run polls, Gallup polls: United States. Nobody even close, far ahead of any other threat. Pakistan, second, much lower. Iran, hardly mentioned."
"Why is Iran regarded here as the greatest threat to world peace? Well, we have an authoritative answer to that from the intelligence community, which provides regular assessments to Congress on the global strategic situation. And a couple of years ago, their report—of course, they always discuss Iran. And the reports are pretty consistent. They say Iran has very low military spending, even by the standards of the region, much lower than Saudi Arabia, Israel, others. Its strategy is defensive. They want to deter attacks long enough for diplomacy to be entertained. The conclusion, intelligence conclusion—this is a couple years ago—is: If they are developing nuclear weapons, which we don't know, but if they are, it would be part of their deterrent strategy. Now, why is the United States and Israel even more so concerned about a deterrent? Who's concerned about a deterrent? Those who want to use force. Those who want to be free to use force are deeply concerned about a potential deterrent. So, yes, Iran is the greatest threat to world peace, might deter our use of force."
Over the first 75 days of the Trump administration, the White House has taken multiple steps to escalate the possibility of a US war with Iran. Trump included Iran on both his first and second Muslim travel bans. As a candidate, Trump also threatened to dismantle the 2015 nuclear deal between Tehran and world powers.
Iran and the Group 5+1 (Russia, China, the US, Britain, France and Germany) reached the nuclear deal, also known as the Joint Comprehensive Plan of Action (JCPOA), in July 2015 and implemented it in January last year.