Iranian Team Wins RoboCup Iran Open 2017 (+Photos)
TEHRAN (Tasnim) – Iran's Qazvin Islamic Azad University (QIAU) came first at the 12th edition of Iran Open Robocup competitions.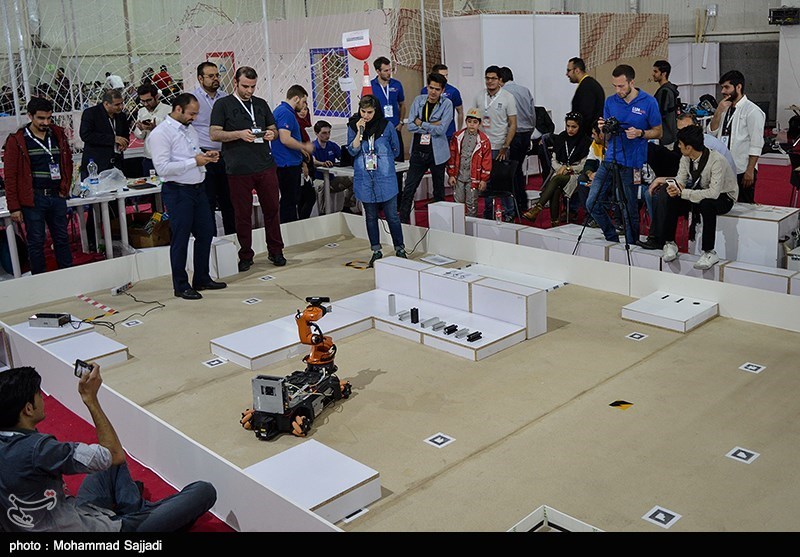 The MRL-HSL from the Islamic University of Qazvin came first by winning top places in six leagues.
The 12th RoboCup IranOpen concluded on Friday with hundreds of enthusiasts testing their hardware against international rivals. More than 2,820 competitors from North and South America, Europe and Asia took part this year with independently designed robots.
The competitions included several leagues, namely rescue, industrial, aerial and mine detecting robots, as well as robotic soccer. The winners of various leagues were announced in a ceremony held at Tehran's Permanent Fairgrounds later on Friday.
In Humanoid Adult Size League, IRC from Ilkhchi Islamic Azad University of Tabriz won the first place, while ZJUDancer from China and MRL-HSL from QIAU came in first and second respectively in the Kid Size League, Iran Daily reported.
FUmanoids ― Berlin United from Germany won third place in this league. In Teen Size, Unbounded Designers from Islamic Azad University of Isfahan won the first place.
In RoboCup Soccer Standard Platform League, Nao-Team HTWK from Germany won the first place, while MRL-SPL from QIAU came second and Dutch Nao Team from the Netherlands won the third place.
In Robocup Soccer Middle Size Robot League, MRL won the first place. Zjunlict from China won the first place in Small Size while ER-Force from Germany took the second place while Parsian from Amirkabir University won the third place.
MRL won other top places in Robocup@Home and IranOpenUAV ― Indoor.
Teams from the US, Singapore, China, Germany, and the Netherlands were among the other winners in this edition of the Robocup Iran Open competitions.
The first RoboCup IranOpen took place in April 2006.