Iran's Shamkhani Denounces US for Massive Bomb Drop on Afghanistan
TEHRAN (Tasnim) – Secretary of Iran's Supreme National Security Council Ali Shamkhani slammed as "illegitimate" the US move to drop a large bomb on Afghanistan, reminding Washington that bombardment of other countries would not guarantee its national security.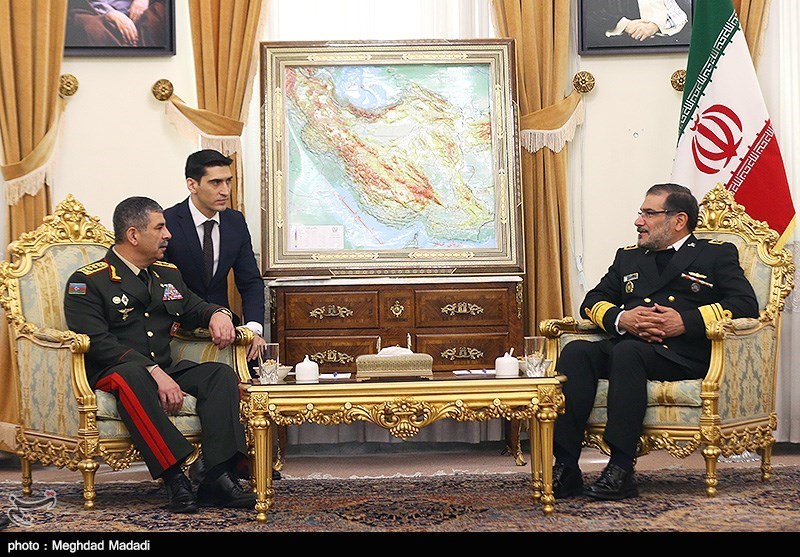 "Bombing people and countries could never strengthen that country's (US) national security," Shamkhani said in a meeting with Defense Minister of Azerbaijan Zakir Hasanov, held in Tehran on Sunday.
His comments came after the US dropped the "mother of all bombs" - the largest non-nuclear weapon ever used in combat by the US military - on an area of eastern Afghanistan on Friday for what it called targeting Daesh (ISIL) terrorists.
Elsewhere in his remarks, Shamkhani said "unilateral measures" by the US and some of its allies have emboldened terrorist groups in the region and hampered political solutions to crises.
Shamkhani further pointed to the numerous commonalities between Iran and Azerbaijan in defense, political, regional, and cultural spheres, and called for closer bilateral ties on "strategic issues."
The visiting Azeri defense minister, for his part, said Baku is eager to boost cooperation and interaction with Tehran.
Hailing Iran's "precious experiences" in the fight against terrorism, Hasanov called for close dialogue between the two neighbors to counter the threats posed by Takfiri terrorist groups.
Heading a high-ranking military delegation, Hasanov arrived in Tehran on Saturday at the invitation of his Iranian counterpart.