'Yes' Wins 51.3% in Turkey Referendum after 98% of Ballots Tallied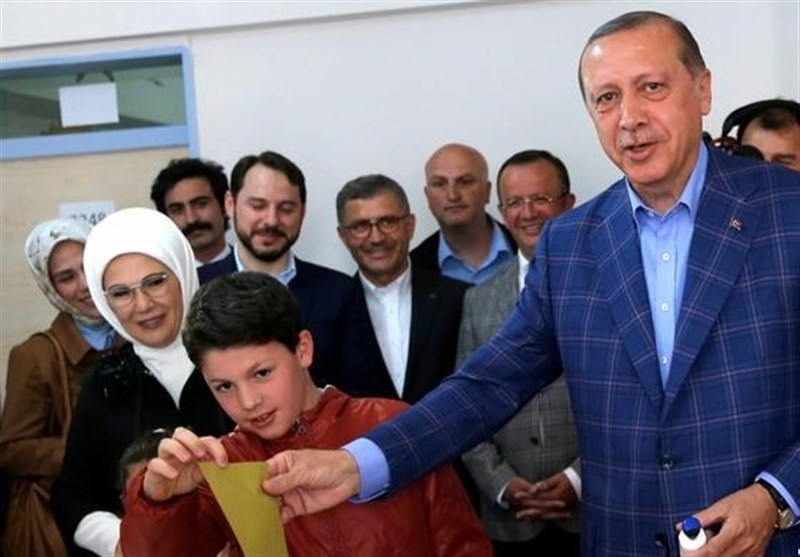 TEHRAN (Tasnim) - Turkey's state-run news agency has said "Yes" votes are leading in Turkey's referendum on whether to grant the President sweeping new powers.
But the main opposition party, CHP, have said they will demand a recount of 37 per cent of the vote, claiming that 1.5 million "illegal" ballots were counted.
The pro-Kurdish People's Democratic Party (HDP) also said they had information there was between three and four per cent voter fraud during the vote.
The "Yes" side took an early lead during vote counting and stood at more than 51 per cent with 98 percent of ballots tallied, The Anadolu Agency said.
However, there was also confusion over the number of votes that had been counted, with the Supreme Election Commission reporting that only 65 to 70 per cent of ballots had been opened.
Data cited by Anadolu showed a high percentage of "Yes" votes in central Anatolia, while "No" votes led in coastal regions near the Aegean Sea and Turkey's mainly Kurdish southeast.
If the electorate votes "Yes", the role of prime minister would be abolished and executive power would be transferred to Mr Erdogan. Under the proposed changes, the President could hold office until 2029, The Independent reported.
He would also be able to appoint judges, pass decrees and have greater influence over the civil service.
The "Yes" campaign say the proposed changes would streamline Turkey's political system, and point out the both the US and France have an executive presidency.
But opponents fear the concentration of the power in the office of the Presidency will cause the country to lurch further towards authoritarianism.
The deputy chairman of Turkey's main opposition Republican People's Party (CHP) said "illegal acts" were being carried out in favour of the government during the vote.
"Many illegal acts are being carried out in favour of the government right now, but 'No' will win in the end," Erdal Aksunger told reporters at his party headquarters, referring to an election board decision to accept unstamped ballots.
A statement on the High Electoral Board's (YSK) website hours before polls closed said it would count ballots that had not been stamped by its officials as valid unless they could be proved fraudulent, citing a high number of complaints that YSK officials at polling stations had failed to stamp them.