Erdogan Hints at Referendum on Turkey's EU Accession
TEHRAN (Tasnim) - Turkey's President Recep Tayyip Erdogan on Monday said his country could hold a referendum on its long-stalled EU membership bid.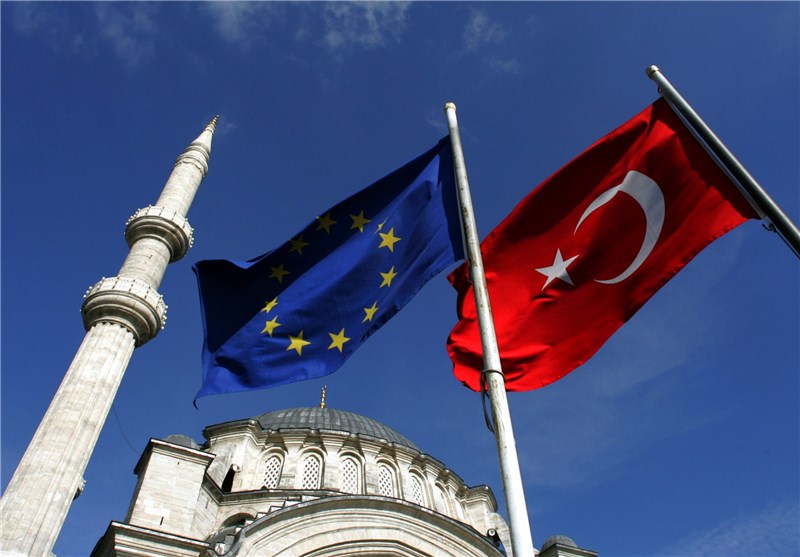 His comments come a day after Turkish citizens voted to approve a constitutional change bill which was backed by the president and the AK Party government.
Prior to Sunday's referendum, Erdogan had criticised a number of EU member states for preventing Turkish ministers from speaking at consulates, where they hoped to explicate the proposed constutional amendments to Turkish expatriates, TRT World website reported.
"For 54 years, what did they make us do at the EU's door? Wait!" Erdogan told supporters outside the presidential palace in Ankara, referring to Turkey's long-standing membership bid.
He hit back at threats by EU leaders to freeze accession talks, adding: "We will sit down and talk, and we can hold a referendum for that (EU bid) too!"
Erdogan on Sunday declared victory for the "yes" vote in the referendum, the biggest political overhaul in Turkey's modern history, but opponents said the vote was marred by irregularities and they would challenge its result.
The "yes" camp won 51.41 percent in Sunday's referendum on a new presidential system and the "no" camp bagged 48.59 percent of the votes, according to near-complete results released by the election authorities.
But Erdogan's victory was far tighter than expected, emerging only after several nail-biting hours late Sunday which saw the "no" result dramatically catch up in the later count.
Turkey's three largest cities — Istanbul, Ankara and Izmir — all voted "no" although "yes" prevailed in the country's Anatolian heartland.