Iran President Orders Reconstruction in Flood-Hit Areas to Start Swiftly
TEHRAN (Tasnim) – Iranian President Hassan Rouhani said he has ordered the rebuilding of destroyed houses in areas hit by recent floods in northwest of the country to start without delay.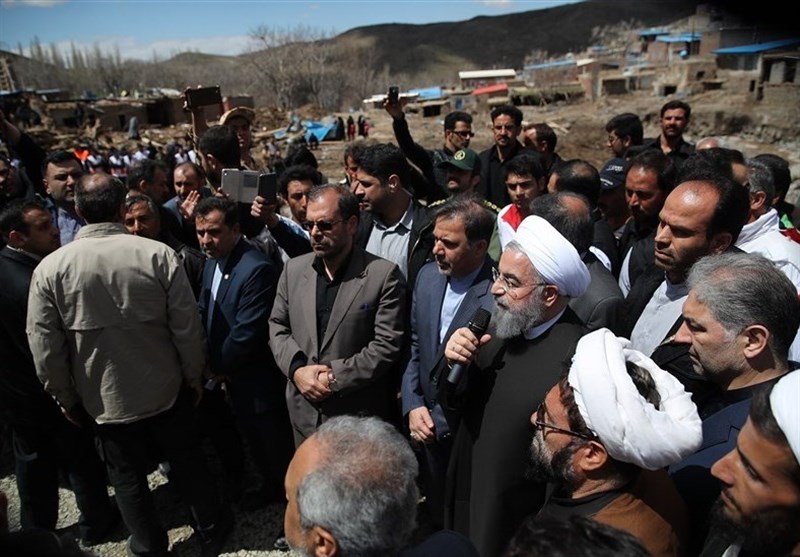 "I have issued an order that the operation for reconstruction of houses destroyed (in flash floods) begin by the Housing Foundation and Ministry of Roads and Urban Development tomorrow," the president said Wednesday in a visit to the village of Chenar in East Azarbaijan province, one of the worst affected areas.
He expressed sorrow over the loss of lives in the natural disaster and made assurances that efforts will continue in search of those who went missing.
President Rouhani further described the process of relief aid operations as satisfactory and noted that rescue and relief forces, officials, and forces from the police, army and IRGC arrived in the affected areas to help the people in a short time after the floods.
At least 40 people were killed in severe flooding triggered by torrential rains in several northwestern provinces of the country last week.
Heavy rains started on Friday. The surging waters caused rivers to burst their banks and swept away cars and flooded houses in the provinces of East and West Azarbaijan, Kurdistan, Ardebil and Zanjan.