Iran, Russia's Tatarstan Discuss Closer Ties
TEHRAN (Tasnim) – Top officials from Iran and Russia's Republic of Tatarstan weighed up plans in a meeting in Tehran to boost trade and industrial cooperation, with both highlighting the grounds for interaction in the field of new technologies.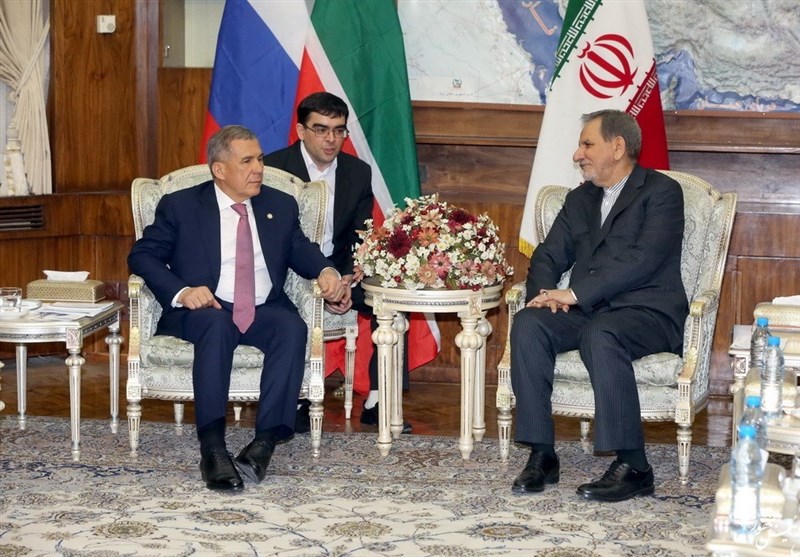 Iranian First Vice-President Eshaq Jahangiri and visiting President of the Republic of Tatarstan Rustam Minnikhanov on Wednesday explored avenues for industrial, academic, and technological cooperation between Tehran and Kazan.
Jahangiri said the sanctions that the West has imposed on Iran and Russia could give the two sides an opportunity to "make great strides" in promoting economic cooperation.
He also voiced Iran's readiness to enhance interaction with Tatarstan in the sphere of new technologies.
For his part, Minnikhanov pointed to Tatarstan's capabilities in various industries, expressing his republic's willingness to launch cooperation with Iran in the oil and petrochemical industry, automotive industry, agriculture, advanced technologies and new energies.
He also unveiled plans for cooperation with Iran in information and communication technology (ICT) following talks with Iran's Minister of Communications and Information Technology Mahmoud Vaezi.
The Republic of Tatarstan is a federal subject of the Russian Federation, located in the Volga Federal District.
Iran and Tatarstan have accelerated efforts in recent years to boost mutual cooperation.