Syria Evacuees Stuck at Site of Deadly Bombing
TEHRAN (Tasnim) – Hundreds of frightened Syrian evacuees from two besieged government-held towns were stuck at a rebel-held transit point Thursday where dozens of their fellow townspeople were killed in a weekend bombing.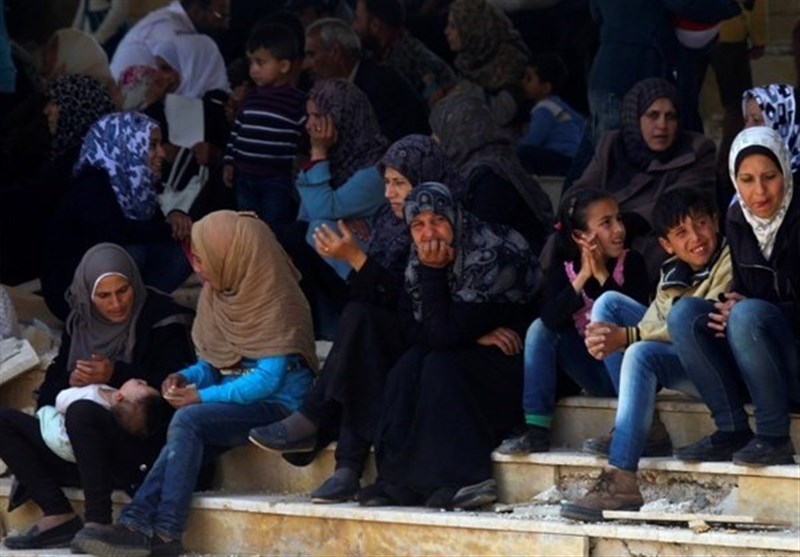 The 3,000 evacuees, who had left their homes at dawn on Wednesday, spent the night in buses in a marshalling area in Rashidin, west of government-held second city Aleppo, awaiting onward transport to safety.
Some 300 evacuees from rebel-held towns were similarly held up at a staging point at Ramouseh in government-held territory.
"The convoys will not move until after the release of 750 prisoners – men and women – from regime prisons and their arrival in rebel-held areas," the opposition-aligned Syrian Observatory for Human Rights said, AFP reported.
The hard-won resumption of evacuations on Wednesday came after a suicide car bomber killed 126 people, 68 of them children, in Rashidin on Saturday.
Most of the dead were evacuees from the government-held Shiite-majority towns of Foua and Kefraya, with a handful of aid workers and rebels guarding the convoy also killed.
The current evacuations mark the end of the first stage of a deal brokered by Iran and Qatar. A second phase is due to begin in June.
Foua and Kefraya will be emptied entirely, with residents and fighters heading to Aleppo and then on to government-held Latakia or Damascus.
All rebels are expected to leave Madaya, Zabadani, and other nearby oppositions-held areas, but civilians who want to remain may do so.
Those leaving rebel-held areas will head to Idlib province, which is held by an opposition alliance.
Foua and Kefraya are the only government-held enclave in Idlib's militant-held area.
The towns of some 20,000 people have been under siege since 2013. The humanitarian situation remains dire, with a lack of food and basic necessities.