Syria's Zabadani, Madaya under Full Control of Army
DAMASCUS (Tasnim) – The towns of Zabadani and Madaya, situated in Rif Damascus Province near Syria's border with Lebanon, were emptied entirely following an evacuation deal between the Arab country's government and militants.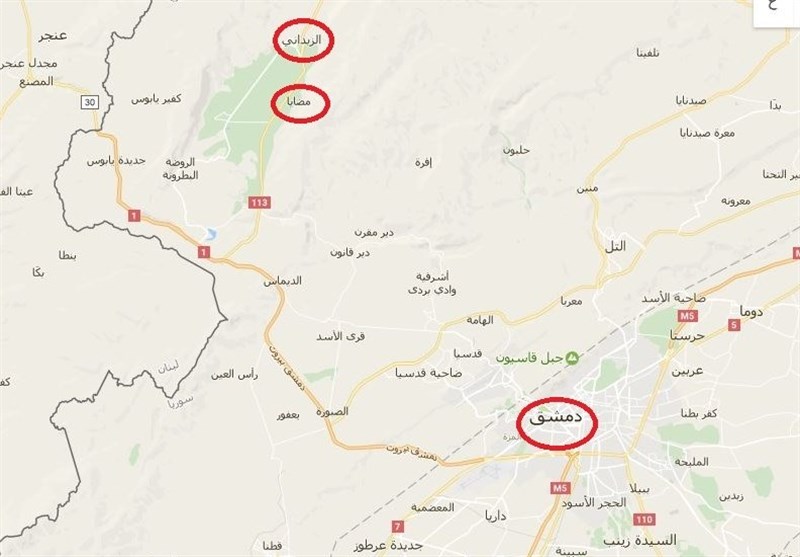 According to Tasnim dispatches, all Takfiri militants and their families were transported out of Zabadani, Madaya and other nearby oppositions-held areas on Friday and resettled in Syria's northwestern Idlib province.
In the meantime, nearly 8,000 residents were evacuated from the Syrian towns of Foua and Kefraya in Idlib and relocated to their permanent residents in Latakia and Homs under the deal.
The evacuations marked the end of the first stage of the deal brokered by Iran and Qatar. A second phase is due to begin in June.
Foua and Kafarya are the only government-held enclave in Idlib's militant-held area. The towns of some 20,000 people have been under siege since 2013. The humanitarian situation remains dire, with a lack of food and basic necessities.
The report added the towns of Zabadani, Madaya, and its surrounding areas are now under the full control of the Syrian army, adding that the government forces have begun clearing land mines and explosives left behind by the militants in the regained areas, the report added.
Syria has been gripped by civil war since March 2011 with various terrorist groups, including Daesh (also known as ISIS or ISIL), currently controlling parts of it.
According to a report by the Syrian Center for Policy Research, the conflict has claimed the lives of over 470,000 people, injured 1.9 million others, and displaced nearly half of the country's pre-war population of about 23 million within or beyond its borders.