Bahraini Youths Continue Sit-In in Support of Sheikh Qassim (+Photos)
TEHRAN (Tasnim) – Bahraini youths continued a sit-in staged in the resistive village of Diraz to express their solidarity with Sheikh Isa Qassim, the spiritual leader of the Shiite majority in the Arab kingdom, activists said.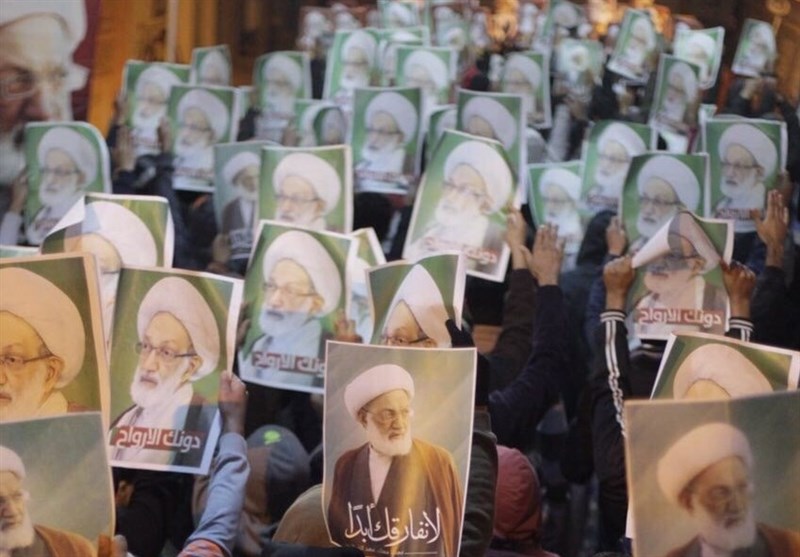 According to the activists, the sit-in in front of the house of Sheikh Qassim in the northwestern village has continued for 306 consecutive days.
Holding placards and photos of Sheikh Qassim, the participants in the sit-in protest emphasized on Friday night that they will defend the cleric against the conspiracies of the ruling Al Khalifa regime.
The Manama regime announced on June 20, 2016, that it had revoked the citizenship of Sheikh Qassim. The regime later said it would put the senior cleric on trial on charges of "illegal fund collections, money laundering and helping terrorism".
Back in March, Manama postponed the trial of Sheikh Qassim as nationwide rallies were held in solidarity with the top cleric.
The trial session of Sheikh Qassim had been slated for March 14, but was adjourned until May 7.
Some sources have said that the Bahraini regime plans to send Sheikh Qassim to exile in Turkey in a bid to ease tensions.
Bahrain, a close ally of the US in the Persian Gulf region, has been witnessing almost daily protests against the Al Khalifa dynasty since early 2011, with Manama using heavy-handed measures in an attempt to crush the demonstrations.
Scores of Bahrainis have been killed and hundreds of others injured and arrested in the ongoing crackdown on the peaceful demonstrations.