Iran Beach Soccer Wants to Advance to Semis: Captain
TEHRAN (Tasnim) - Iran beach soccer team captain Mohammad Ahmadzadeh says his team aims to qualify for the FIFA Beach Soccer World Cup Bahamas 2017.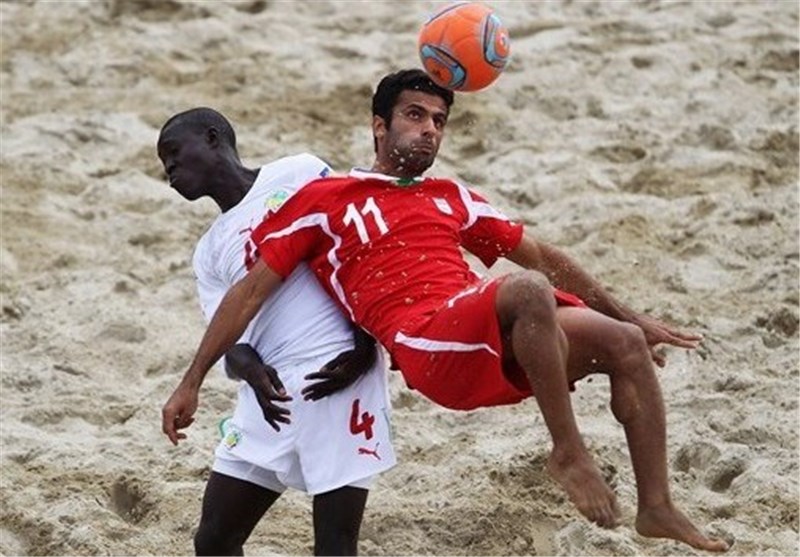 He explained in an interview with FIFA.com: "It makes me want to kick on and shine at the next World Cup and to score even more goals. I've got the experience to make that happen."
"Tahiti (2013) was the tournament I've enjoyed the most so far. We reached the last eight for the very first time and I had a big part to play in that success."
Ahmadzadeh has seen enough and learned enough along the way to gauge how far Iran has come in recent times: "We were just amateurs 11 years ago. But in the last five years professional players have come into the Iran team and we've played a lot of games against other top-level national sides.
"When we went to Tahiti, we lacked experience and our only thought was to get past the group phase. We went on to reach the quarter-finals, though. And in the Bahamas, we'll be giving our all to make the last four."
If they are to reach that objective, Ahmadzadeh and his team-mates will need to negotiate a tough group that also features Mexico, Italy and Nigeria.
El Tri will provide Iran's first opponents on Thursday, with Gli Azzurri up next two days later, and the Nigerians last on Monday, May 1.
Despite the scale of the task awaiting the team from the Middle East, Ahmadzadeh is confident about their chances of success: "I think we're going to win the group. We're going to do everything we can to beat Italy and Mexico. We know both of them well because we've played them before in competitions and friendlies.
"Iran is one of the top teams in the world and we're not inferior to anyone," said the skipper. "I'm convinced that if we can make the second round, then we'll go on to the last four."
In trying to make that happen, Ahmadzadeh will have the support of a core of equally seasoned players: "There are five or six of us who've played at five World Cups. That's half a team with a lot of experience."
Wrapping things up, the goalscorer looked back on his previous appearances on the global stage and pointed to what he can bring to Iran's bid for glory at Bahamas 2017: "I've played in a lot of Beach Soccer World Cup matches and I've seen the highs and lows. The team has pulled together whenever things have gone against us, and I'm going to draw on all my experience to help my team-mates and make sure we can go as far as we can."