Iran, Russia, Syria Urge Closer Cooperation in Counter-Terrorism
TEHRAN (Tasnim) – Iranian Defense Minister Brigadier General Hossein Dehqan and his Russian and Syrian counterparts, Sergei Shoigu and Fahd Jassem al-Freij, stressed the need to continue cooperation between the three countries in the fight against terror groups.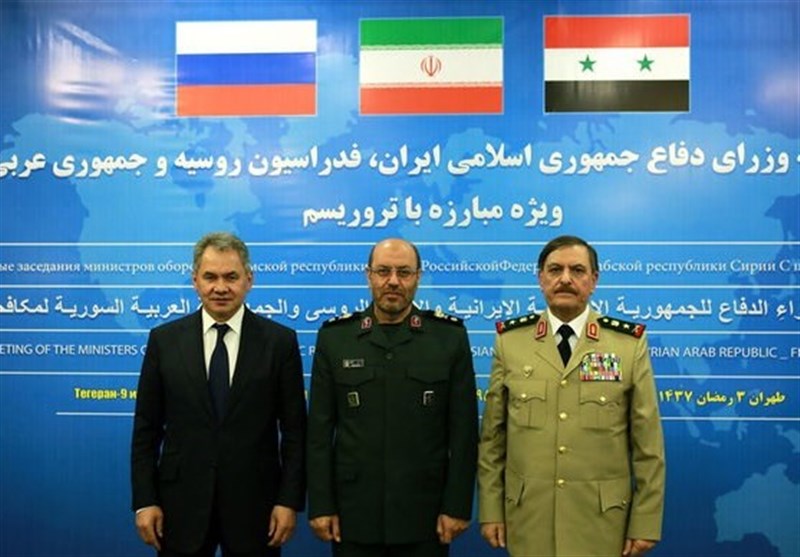 In a meeting held in Moscow on Wednesday night on the sidelines of the VI Moscow Conference on International Security (MCIS), the three defense ministers exchanged views on a range of issues, including the anti-terrorism campaign in Syria.
They stressed the need to keep up the campaign until the full eradication of violence and terrorism in the war-hit country.
The ministers also deplored a recent US missile attack against a Syrian military airbase near Homs and Washington's blatant support for terrorists, calling for an immediate end to such evil acts of violence.
The three countries' cooperation includes diplomatic efforts to end fighting in Syria that have gained momentum in recent months with the announcement of a ceasefire in the Arab country in early January.
The truce, which was negotiated between Russia, Iran, Turkey, the Damascus government and the Syrian opposition, excludes terrorist groups such as Daesh and Jabhat Fateh al-Sham.
Syria has been gripped by civil war since March 2011 with various terrorist groups, including Daesh (also known as ISIS or ISIL), currently controlling parts of it.
According to a report by the Syrian Center for Policy Research, the conflict has claimed the lives of over 470,000 people, injured 1.9 million others, and displaced nearly half of the country's pre-war population of about 23 million within or beyond its borders.